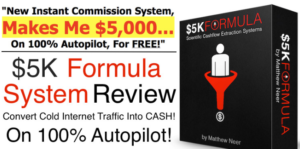 Product: 5k Formula System
Price: $39 and upsells
Rating: 50/100
Overview: I've reviewed programs like 5k Formula System before and it's essentially a done for you sales funnel where you get commissions (you get 100% commissions if you pay extra and get a license). You get traffic through "free traffic" and paying for traffic.
I don't really like this money making system because you don't actually learn anything and all you're doing is promoting a single squeeze page which makes it hard to get free traffic. You'll never build a real brand this way.
If you're looking for the absolute best affiliate marketing training you'll want to get Wealthy Affiliate – it has everything 5k Formula doesn't have like a large community, website builder, support, and other great tools.
To read my Wealthy Affiliate review, click below:

---
What's Inside 5k Formula System?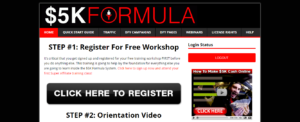 Once you purchase 5k formula and get around the upsells up top is where you go. Everything is pretty well designed and I never really felt confused on what to do next.
The training is pretty simple to follow. You just plug in a few codes and your site is made for you. The main problem with these done for you systems is:
You don't actually learn anything about affiliate marketing. If you can actually understand how people make purchase online, you can sell whatever you want.
You don't actually own the site. With these kinds of offers the owner of the website can legally take the site away from you. They own the domain so technically it's more like you're just renting from them.
It's hard to get free traffic because you essentially only have a one page website. Most sites get traffic by blogging and SEO. You won't have that opportunity here. Most of the traffic you get is going to be paid traffic which can be a real crap shoot.
Do I think some people actually make money from this system? Maybe. I doubt there's many people that do and the ones that do are probably experienced in generating traffic using solo ads and other paid traffic methods.
Let's go over what's exactly in the training now.
Step 1: New Accounts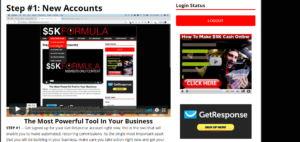 First step is to sign up for an email responded and Clickbank. In order for the 5k Formula system to work you're going to have to collect emails. Since you won't be getting a lot of free or natural traffic this is important.
Most cold traffic won't purchase right away and that's the kind of traffic you'll be getting. Collecting emails allows you to build a relationship with your customers and get them to purchase later on.
You combine your Clickbank account with them as well so you can get paid if you get any sales.
Step 2: Upload Link
This video just shows you how to upload your email responder link to the 5K Formula. This ensures that you'll have popups and you'll be able to send out emails to your growing list.
Step 3: Funnel Link
This section is just like the last section but instead of linking up your email responder, you're linking up your Clickbank username. This makes sure all your sales are tracked and you get commissions every time you do make a sale.
Step 4: Click Tracking
Step 4 is about the importance of analytics and tracking all the clicks that come to your website. This is very important and gives you insight into how well you're doing and what works and what doesn't.
The only problem is the click tracking program they recommend costs money. It's not just a one time purchase either and is a monthly bill. You can get it as low as $12 per month but for some people starting out, they might not be able to spend anything extra.
One thing I don't like is the owner clearly put an affiliate link in the tracking program he recommends. That means every time someone purchases the product to use, he gets a portion of the sale. He's not upfront about this at all.
So just so you know anything that you click on inside 5k Formula that sends you to another place is most likely an affiliate offer. Make sure to research alternatives to find which program is truly best for you.
Step 5: Traffic Stream
In this section you are taught about the free traffic you'll be receiving. Apparently the owner of this course gets "overflow" traffic that he can't monetize. So he sends it out to everyone who purchases 5k Formula.
In this section he guarantees that any person who buys this course will receive 100 free clicks a month.
100 clicks a month might seem like a big deal to someone who's knew to affiliate or internet marketing but that's literally nothing. A thriving website needs upwards of a 1000 clicks A DAY.
So 100 is really a drop in the bucket to what you actually need.
This is the end of the Start Guide but there's a few more sections to over.
Traffic Section
Traffic is the single most important aspect of running an online business. You can have the best offer on earth and have the best looking website on earth. If you don't get paying customers to your offer and website, you'll never make money.
I don't really like the traffic methods described in this section besides maybe solos ads (which can be risky). The owner recommends going to websites that trade traffic with you.
I saw one place say if you click on one website, you'll get 6 visitors in return. Who knows where this traffic is coming from and even if it's real traffic.
Here's a video inside that goes over the "free" traffic sources:
Like I said before, this kind of system requires you to buy traffic. The main ways they recommend paid traffic is with solo ads and running banners on different internet marketing forums.
Those are effective ways to make money but there isn't NEARLY enough training on it here. If you're not careful you can lose thousands with paid traffic.
If you want to use these methods, I would find additional training.
Beware The Upsell
This course really makes an effort to upsell you. If you're unfamiliar with what an upsell is, it's basically when someone tries to get you to buy more after you already made a purchase.
Essentially they're trying to get you to purchase additional benefits or special access to certain training.
I ALWAYS avoid the upsell because it's basically just meant to take your money. But if you are interested test out the system and make money first. If you can't make money without the upsell, you won't be able to make money with the upsell.
Don't let them make you think otherwise.
What I Like About 5k Formula System
There's really not much to be honest. The website has a pretty good design and it's pretty easy to navigate. You'll easily be able to go through the training without any issues.
The squeeze pages they create for you are pretty nice too. Some popups aren't very persuasive but the ones included in this course are pretty eye catching.
What I Don't Like About 5k Formula System
There's a lot I don't line. First off, I really don't like these done for you systems. You need to learn how to create a website and build an email list. If you don't you're pretty much stuck with 5k Formula because you won't have the skills to move on.
Secondly, I don't like one page websites either. You need to be able to blog and create content if you want to drive free traffic.
And speaking of traffic, I don't really like their methods of driving traffic. It's either getting low quality traffic through exchanges or paying for traffic that may or may not be legitimate.
Stay Away From 5K Formula
It may sound great having a done for you system that makes thousands in just minutes a day but it's a fantasy. Wouldn't everybody be doing it, if it were true? Don't you think the course would cost more than $39 if you could make anywhere near that?
The answer is of course. 5K Formula may not be an outright scam but I highly doubt there's people out there making good money from this course besides the owner.
If you're looking for real training and a place where you can actually learn to make money online, you should definitely check out Wealthy Affiliate.
This is where I learned how to become a full time internet marketer and how I was able to quit my job to work online.
Here's how Wealthy Affiliate stacks up against 5k Formula:
If you really want to make money online, make sure to read my review of Wealthy Affiliate.