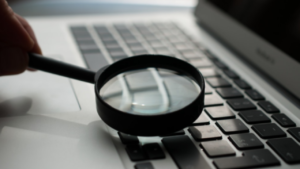 In order to make money online, you need to know how to do affiliate marketing keyword research.
To me keywords are the number one most important aspect of SEO (that and writing the best content possible) and in this post I'll show you everything you need to know to find profitable keywords.
By the end of this post you'll know exactly what to search for and where to look to make a 6 figure website without spending much money.
Ready?
Make Sure To Target These Keywords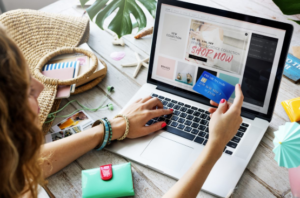 Unless you're building an email list and plan on making affiliate offers down the road, you need to find keywords that are late in the customer purchase cycle.
When people go to buy something online this is generally the steps they take:
Research Phase: When someone has a problem in their life they will usually look how to fix it. During this phase a person may learn about a product that can help them solve their issue. For instance, someone may want to cut their cable bill and learn they can stream shows for free with an Android box. If you were in the cable cutting niche, you may have written a post called "How to cut cable in 2019." You would want to make sure to get these readers on to an email list or direct them to your favorite Android boxes after you inform them these products exist.
Decision Phase: After a reader has found out about Android boxes they will start to research them. They will go into Google and look up "Best Android boxes 2019," individual reviews of Android boxes, and comparison articles between two popular Android boxes. This is where you'll want to be as an affiliate marketer and you get these readers by writing the type of keywords I just talked about – best of's, reviews and comparisons. In order for someone to trust your opinion you have to come off as legit and have an affiliate offer that seems legit. People will get quickly turned off by scammy looking offers.
Purchase Phase: This is the phase a customer reaches when they've done their research, compared different products and are ready to buy. As an affiliate marketer you want to inform the person on the product they should purchase and hopefully they click your affiliate link to make the purchase. If they do, you will earn a commission and depending on the affiliate program you're in, this can either be substantial or small.
Most likely you won't be able to rank in google for "purchase phase" keywords. Usually retailers like Best Buy, Amazon and places like that do.
However, if you're writing a review of a product with very little competition, you can rank for "purchase phase" keywords. For example, in the past I've gotten the first sport in Google for a product without the word best or review – just the product's actual name.
As an affiliate marketer you're going to make your money in the second phase. Like I said, you can rank for decision phase keywords by writing the following keywords:
Best of's: I tend to focus on these keywords and they've made me a lot of money in the past. These types of posts work very well. You just rank the top 10 or so products for a keyword ("best android boxes 2019"). I like to add a buyer guide in there as well just to make sure a person knows exactly what to look for when making a purchase. I feel it builds trust too. I also ALWAYS add the year to the end of a best post. You can pick up a lot of sales and traffic by doing that.
Individual Reviews: I personally like best of's more than individual reviews – I feel like best of's give me more traffic. But reviews have their place and if you can hit on a good one you can earn thousands a month from it. Individual reviews are all about volume, though. If you're relying on reviews for your income you better write a lot of them!
Comparison Posts: These keywords are getting very popular and some well known affiliate marketers are targeting these keywords a lot. Basically you'll just want to compare top products (again using the Android box example you would just compare all those boxes against each other). I personally haven't written a lot of these but some of my friends have and they do convert really well. When a person is comparing two products to each other they're basically ready to make a decision about one. Write a good post comparing the two, make a recommendation and link to it!
Before you can begin your keyword research, though, you need to pick an affiliate program and niche.
Picking Your Affiliate Offer(s) And Niche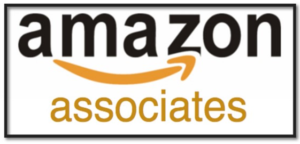 If you already have these two areas figured out, you can skip to the next section. But if you're starting from scratch you should read on.
Because you tend to make money as an affiliate by writing best of's and review posts, you need to pick an affiliate program and niche that allows you to do just that.
I personally like the Amazon Associates program. Not everyone will agree with me on this but I've made a lot of money with Amazon's affiliate program and done so pretty quickly (the fastest I've gotten a website to $5,000 a month was 7 months and I did that by completely monetizing the site through Amazon).
I know a few people that have gotten sites to $10,000+ per month under a year too. One guy I know got his affiliate site to over $20,000 a month in a year.
As long as you pick a niche that goes well with Amazon (the products you review HAVE to be over $80), you can make pretty good money in a relatively short amount of time.
Here's a few niches that are perfect for Amazon:
Tech/electronics
Automotive (particularity car electronics)
Photography and cameras
Outdoor and sport
Hunting and fishing
PC gaming
Fitness equipment
Power tools
And others like that. In order to make an Amazon Affiliate site work you need to drive a lot of traffic to your website and to Amazon. There's so many best of posts you can make and products to review from Amazon this shouldn't be an issue.
Not all niches work well with Amazon, however. If you're running a health blog you're probably better off finding an affiliate program that gives you a commission of 30% to 75% (Amazon only gives commissions mainly between 4% to 8%).
If you're in the make money from home niche you'll want to pick an affiliate program like Wealthy Affiliate and market that.
For the sake of this guide I'm going write it like you're making an Amazon site but all the strategies I talk about work for all affiliate programs and niches.
Go To Major Retailers For Keyword Ideas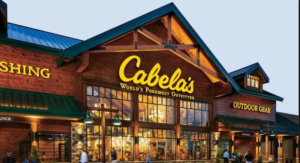 Let's say you're going to make a hunting and fishing site. We've already established you'll be making your money from best of's, reviews and comparisons. The first way to find keywords in this niche is to simply type "hunting gear" and "fishing gear" into Google and click on the retailers that show up. Also, go to Amazon and check out their fishing and hunting sections.
The first website that came up for hunting gear was Cabelas and for fishing gear I got BassPro (Cabelas has a fishing section as well.
All  you're doing now is looking at the categories and checking them in a keyword research tool with the word "best" in front of them – bonus points if the keyword gets traffic with the word "best" in front and the "year" on the end.
I'm personally going to use the keyword research tool from Wealthy Affiliate to look up data but other keyword tools can work too.
Here's keywords that get traffic and seem to be pretty low competition:
best hunting binoculars 2019
best hunting rangefinders 2018
best trail cameras 2018
best thermal scope 2018
best ar red dot 2018
best hunting sunglasses
best turkey decoys
best ladder tree stands
best hang on tree stands
best hunting blinds
best hunting boots 2018
best hunting backpack
best hunting gps
best hunting crossbows
best fish finders 2018
best baitcasting reels
best spinning reels
best fly rods
best fly fishing waders 2018
And that's not even 10% of what you can find on those websites. Each one of those keywords have some competition but nothing you can't beat. Also, each of those best of posts have the potential to bring 1,000 to 10,000 clicks a month. Start ranking for them and you'll get some good commissions.
After that you'll want to look at the top products in each of these categories and write reviews and start comparing them against each other.
The amount of keywords you can find this way will likely keep you busy writing for AT LEAST a year and probably more. This is for people looking for a long term project but who also want to get over $10,000 a month in commissions.
Your work researching isn't done yet, though. There's more keywords to find – particularly ones that are lower in competition.
Alphabet Soup Method
In order to be an effective affiliate marketer you'll have to find low competition keywords. This is especially true when you start off because it may take some time for the more competitive keywords to get to page 1.
One way you can "hunt" these phrases down is with the alphabet soup technique.
To do this go to Google and type in best hunting "a" (without the quotes). You want to see what autophills in Google for the letter "a" and then check the keyword's traffic into a keyword tool. You'll also want to do best "a" for hunting and see what autophills for that too.
Here's what I mean: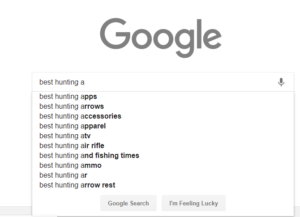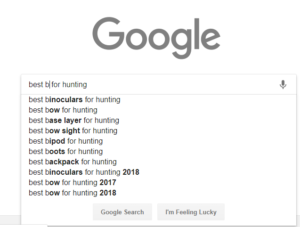 Go through the entire alphabet and just start plugging them into a keyword research tool.
For example, let's say you're looking up "best hunting boots for wide feet." According to the Wealthy Affiliate keyword research tool, this keyword will only get you 50 clicks a month but you'll get WAY MORE than that.
You'll rank for other terms like "hunting boots for wide feet," "wide hunting boots," "men's wide hunting boots," "women's wide hunting boots," and more. I think you'll get around 1000 clicks a month for this keyword.
I want you to Google the phrase "best hunting boots for wide feet." What do you notice?
THERE ISN'T A SINGLE POST WRITTEN FOR THAT KEYWORD!
The first page only has "best hunting boots" and not a single one dedicated to wide hunting boots. If you write this keyword you are guaranteed the first spot in Google. I have experience with these types of keywords and ranked first for "best hiking boots for wide feet" and "best ski boots for wide feet" in the past. Both of these keyword phrase brought me over a 1,000 clicks per month and the second one got me up to 5,000 clicks a month during the winter.
So whatever you do, don't miss out on these low competition best of posts. They really add up and can bring in some serious traffic.
Spy on competitors
If you ever went to college and took a marketing class you probably remember learning about a SWOT analysis. This is a marketing technique where you look at the strengths and weaknesses of your own company and your competitors (it stands for strengths, weaknesses, opportunity and threats).
In this section we'll focus on the threats category, which is your competition.
There's many tools you can get to spy on competitors to figure out which keywords are their best but before we look at those, let's come up with a list of "threats" in the hunting and fishing niche.
You can do this by typing in the top keywords of the niche (best hunting boots, best fish finders, etc.) into Google and creating a list of websites ranking already.
List of competitors:
There's a bunch more and when you go to research competitors you should create a bigger list. It's important to study these websites and the content that ranks for certain keywords. Look at the design and how nice it looks. Find out the word count. See the quality of the products they're linking out to.
This will give you a good idea about how much work you'll have to do to compete in the niche.
There's a few tools that you can use to figure out which keywords are getting the most traffic. There's some that cost a lot of money, some that are cheap and some that are free.
SEMrush:
SEMrush is one of the most well known keyword spy tools and it's definitely a great product to have at your disposal – if you can afford it. There's three monthly membership options and they are $99, $199 and $399. I started affiliate marketing with literally zero dollars so I can understand if that's too much. You can live without it if you make use of the other tools listed here.
You could always just pay for a month, do all your spying in that time period, write down your results and cancel the membership. You can also get some pretty limited data with a free trial.
Anyway, with this tool you just take the domain of your competitor and plug it in.
For example, I plugged in Pickabow.com and got these results: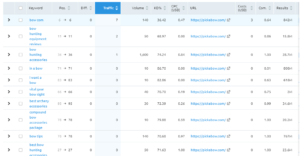 This is only the results you get with the free trial but as you can "hunting bow accessories" is a keyword you're definitely going to want to target!
Ispionage: 
A cheaper option ($59 a month) to get these kind of results is Ispionage and this is a tool that I used in the past. In terms of spying on keywords, this tool is better than SEMrush.
Here's the results I got with Pickabow: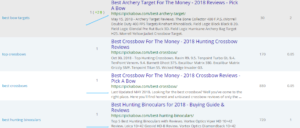 Those results are pretty accurate too. I typed in one of my sites and the data showed my best performing keywords.
Similarweb:
Similarweb is the tool I've been using to estimate traffic in this guide and it's free to use. It's not perfect but it gets you in the ballpark of how a website is performing.
It also gives you more data and shows you the top 5 performing organic keywords.
Let's check it out with Pickabow!
So best hunting binoculars seems to drive a lot of traffic as well as best hunting boots and best crossbow.
Alexa.com
Not to be confused with the Amazon product, Alexa.com is a website that tracks other website's data and traffic. It's very similar to Similarweb and is another tool that also shows the best producing keywords.
Let's see what we get:

As you can see you'll definitely want to write the article best hunting binoculars and best hunting crossbow – they show up a lot in these tools. You'll probably want to take extra time on these posts.
There's other tools like BuzzSumo that you pay for that are extremely helpful. But unless you're making money already I wouldn't go with the paid options. You can make do without them.
Wish, Gadgetflow and Amazon best sellers
These three websites are excellent resources for finding products that are hot or new – they're also excellent for finding keywords that your competitors haven't targeted yet.
Wish:
Wish is a website that dropshippers like to look at. This is because a lot of the products you find on this site are from China and dropshippers love importing stuff for cheap from China.
If you're using this website for affiliate marketing you want to find keywords and not products (find better quality and more expensive products on Amazon after).
So go to Wish.com and type in hunting and after type in fishing.
Just look at the products and determine what keywords the products represent. Some keywords I found from there are:
best ghillie suit
best ghillie suit for bow hunting
best hunting axe
best hunting headlamp
best hunting jacket
best hunting walkie talkie
best grappling hook
best hunting knife
best hunting bipod
best fishing alarm
best fishing bite alarms
best fish scale
best portable fish scale
These are keywords that I haven't thought of before and didn't come across in my research so far!
Gadgetflow: 
Gadgetflow is like Wish except with much nicer and more expensive products. You're going to do the same thing to find keywords too. Go to Gadgetflow and type in hunting and after type in fishing.
Here's some keywords that I found:
best hunting watch
best portable water filters
fish trackers
best compact fishing rod
best kayak for fishing
best underwater fishing cameras
I'd say Gadgetflow is best for tech and home products but you can still get some ideas in other niches like hunting.
Amazon Best Sellers:
This one should be pretty self explanatory and you can find really great products to review if you go to the best seller section for your niche in Amazon.
Here's what the best seller hunting section at Amazon looks like: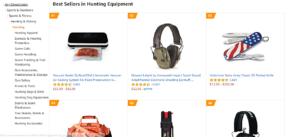 You can just look at the top selling products for hunting or you can dig into the top sellers in different sub-hunting categories.
For example,
You can click on best selling hunting apparel, game tracking, knives and tools, hunting dog equipment (may want to do separate keyword research on this topic!), gun safety and more.
What happens when you click on those categories? You get even more categories!
Click on gun safety and you'll see it gets broken down into gun locks and gun cabinets (two more keywords).
Click on game tracking and trail monitors and you get the categories "game and trail cameras," "game finders," "GPS trackers," and "hearing aid enhancements." Even more keywords!
You can find A LOT of keyword ideas this way (hundreds of best of lists and thousands of individual reviews) and you can do this in any niche.
Aliexpress
If you've gotten into Ecommerce and dropshipping, you know about Aliexpress – it's basically China's Amazon. People love it for dropshipping because there's apps that allow them to re-market products from it and resell it to Americans.
They usually tack on $20 to cover the expenses of marketing the product on Facebook or Instagram. Most people don't realize when they buy something from a Facebook Ad, they're usually buying it from a dropshipper. They also don't realize they could have just gone straight to Aliexpress and saved $20 by buying the product from there.
Aliexpress has value for affiliate marketers and is an excellent resource for keyword research. You're not looking for products to review or anything like that, though. You're looking for categories and then typing the category into a research tool to see if it gets any traffic.
So head over to Aliexpress and type in hunting. Look at all the categories you can dig into and the products that show up.
Some keywords I found in just a few minutes of research include:
best tactical flashlights
best tactical backpacks
best hunting vests
best hunting pants
best spotting scopes
best gun cleaning kits
Even more articles you can write and more opportunities for you to make money.
Keyword tool suggestions
Last on this list is where most people start – using keyword tools. I like to use the other methods with a keyword research tool and then see what type of suggestions the keyword tool gives me.
Like I said before I'm a member of Wealthy Affiliate and I get a very powerful keyword research tool with my membership (as well as a website builder, community, support, training and more!)
There's other awesome keyword research tools available too – Long Tail Pro, Ahrefs, SEMrush, Jaaxy and more.
If you don't have the money to purchase one of these tools just use the Google keyword planner – it's free!
To make this tactic work just type in different hunting and fishing keywords into your tool of choice. After, scroll down and see what the tool gives you. Sometimes you can get some really good keyword ideas from this.
I went into the keyword tool at Wealthy Affiliate and typed in "best hunting jackets." Here are some keyword ideas the tool suggested after typing that keyword in: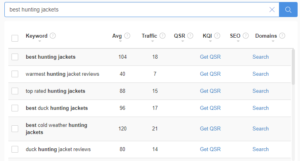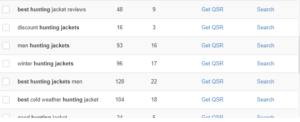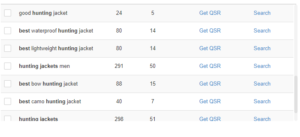 As you can see there's a ton of keywords here. "Best waterproof hunting jacket," "best bow hunting jacket," "best lightweight hunting jacket," "best duck hunting jackets," "best cold weather hunting jackets," "best camo hunting jacket," and more.
All these ideas came from just researching one keyword too! Go through all your keywords and see what suggestions you get.
These keywords are good because they tend to be long tail and very specific. It's usually much easier to rank for long tail and specific keywords compared to general ones.
Now Go Out And Get Researching!
Hopefully by this point you understand the principles of finding good affiliate keywords.
The keywords you target largely depend on your niche and the affiliate program but if you're using Amazon or one of the other large ones, this guide should help you a lot.
I've used this exact strategy to build multiple Amazon sites to profit over $2,000 a month in under 6 months – on one occasion I got it to over $5,000 in 6 months.
If you can go through every step I mentioned in this guide and follow through on the keywords you find, you'll be making good money.
If you have any questions, make sure to comment below and I'll get back to you as soon as I see it. If you found this guide helpful share with a friend!
Do you think you can find awesome keywords now?