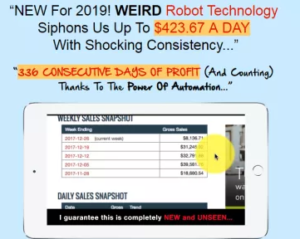 Program: Auto Chat Profits
Price: $40 and upsells
Rating: 20/100
Overview: Auto Chat Profits might not be an outright scam like a lot of courses I review but it's definitely not a training I would recommend.
Its methods are pretty outdated, you don't actually own the website you create (the owner of the course technically owns it) and the training is so generic, you can find the same information for completely free elsewhere. Plus, there's outrageous claims about how much you'll make and how little effort you'll have to put in to make it.
If you want to learn how to make money online I would highly suggest you check out Wealthy Affiliate. That's the place I learned how to make a full time income online and you get every tool necessary to succeed (top of the line training, large community where you can ask for help, support and much more).
Check it out by clicking below:

---
How Do You Make Money With Auto Chat Profits?
Auto Chat Profits teaches a pretty typical way of making money (it doesn't explain things enough, however) and basically it's a system around building an email list with paid traffic sources with a pre-made website, which you don't actually own.
You can definitely make money this way but if you're a beginner you'll want to learn free traffic sources first. If you don't you may find yourself spending thousands and thousands of dollars without making money.
The method they recommend is solo ads and this is paying an established person with a built up email list to access their list. You send your ad out to these people and you either try and make a sale or get them to join your email list.
I'll go over this in more detail why I'm not a big fan of solo ads and how they can really drain your wallet quickly. But overall the training just won't help you make money.
There's not nearly enough training and the training they give you is sub par. You're better off investing in better instruction.
The Price Isn't Terrible – The Upsell Is
There's courses on the internet that cost several thousand dollars and many of these courses aren't that good. The price for Auto Chat Profits is only $40 which isn't that bad.
After you purchase, though, you get immediately sent to another sales page where they try to upsell you for additional features in the training.
There's a big headline that says your order is incomplete and in order to complete your order you have to pay an extra $197. That's pretty underhanded if you ask me and they're basically trying to trick naive people who don't know better to spend the extra money.
You definitely DON'T need to spend the extra. In fact, don't waste your money at all on this course but if you still want to check it out don't get tricked into paying the extra money.
Because Auto Chat Profits is sold through Clickbank it comes with a 60 day money back guarantee too.
Introduction Page
Once you get into the membership area of the course you are prompted to watch videos that describe what's in the training and other videos.
Here's a picture of the first: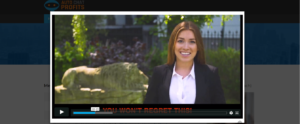 This woman is clearly not an actual member of the course and is just someone they paid for the introduction. Not a big deal to have an actor explain the course because they have good delivery but there's some lies being told to you.
She says how there's only limited spots in this course and how you're lucky that you were able to get in. This of course isn't true and anyone that pays the $40 to get in, gets in.
Nothing of value is really learned from either of the two introductory videos.
Start Here Section
Next you're prompted to go to the Start Here section and that looks like this: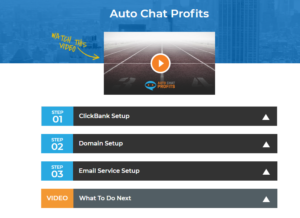 You have to follow the steps in a row and you're basically creating a website.
There's one HUGE caveat here, though. You don't actually own your website and instead you are "licensed" to sell Auto Chat Profits.
This means you don't actually get to pick your website's name and you only get to pick from a few different sites. The sites aren't .com either and they're .live. This will make you look scammy (most people will only click on .com, .edu, .org or .gov.
The problem with having a license is at anytime the owner can take the site away from you. So even if by some miracle your site makes money, it can be legally taken from you and the profits go to the owner.
You don't want to give out control like this. You want 100% control of your site so you can determine what it looks like, what you sell and so you don't have to follow any guidelines.
How It Works  
After you set up "your" website you're told to go to the How It Works section. There you will find 4 videos that describes the process of how you'll be making money with their sales funnel.
Essentially this is where you find out why this product is called Auto Chat Profits.
On the front page or sales page there's an automated chat that talks to potential customers. Essentially it starts a conversation and tries to get a "yes" or "no" from the actual customer (it's only programmed to answer to a yes or no).
Once the person enters the chat and sends a few messages, the autoresponder asks for the person's email. Once the email is entered, they get sent to a separate page where the sales funnel continues.
There an offer is made and the person is prompted to enter an email again. Even if the person doesn't buy right away, having the email address is valuable and allows you to make a sale down the road.
Now it's good to collect emails and it's good to have a sales funnel. Done correctly you can make millions of dollars this way.
But you need one important thing to make this work and that's traffic. Without traffic you're bound to failure and the traffic training in this course isn't good at all. The worst part is the traffic they do teach you is paid traffic and this can lead to you losing a lot of money.
Traffic Videos
I've said this a few times already but it's worth repeating – traffic is the most important aspect of making money online. If you want to make serious cash you have to get your offer in front of potential buyers.
The best and most effective way of driving traffic is with free traffic. This is done through SEO, outreach and social media. But there's no mention of any of this in the course.
All that's taught is solo ads. Solo ads is paying to have access to other people's email list. Basically you send a promotion out to this list and hope to get sales/email sign ups.
Here's a video that goes over what exactly are solo ads and why you shouldn't use them:
As you can see it's not a very good way of driving traffic. My main issue with this is it gets costly and you don't really know how legit the email list is. It could be fake email addresses and it could be full of people that aren't even interested in what you have to offer.
Unless you are 100% sure that the people your offer gets in front of are 100% legit, I wouldn't waste my money. Also, even if you did want to do solo ads, you should definitely try other traffic sources too.
And that's the end of the course. Unless you pay the extra $197 to upgrade this is all you get and it's just not enough for you to succeed online.
Don't Waste Your Money On This Course
There's a lot of good training out there but most of it is low quality or an outright scam. I wouldn't necessarily call Auto Chat Profits a scam but it certainly isn't something I would recommend for anyone.
The training is very low quality and you will not make any money if you rely on what's in this course. In fact, you'll just end up losing money on solo ads and you'll just be frustrated. Even if you do make money there's a chance your site could legally be taken from you and there would be nothing you'd be able to do about it.
So if you're looking for a real way to make money online and a way where you control everything, you should think about joining Wealthy Affiliate. Wealthy Affiliate offers the best affiliate marketing training as well as access to over a million internet marketers to help you on your journey.  There's so much more too.
See how it stacks up against Auto Chat Profits:
As you can see Wealthy Affiliate is the best place for all internet marketers and affiliate marketers.