Before you can make any money on the internet you need to pick a market.
This can seem a little intimidating but I'll show you everything you need to know so you can pick the best affiliate marketing niche. You'll see various niches that are hot in 2020.
You'll have all the tools and knowledge to look at a niche, determine how much you can earn and most importantly make a decision if it's suitable for you or not.
Don't worry if you have a limited budget (or no budget at all), either. Everything I'm going to show you is basically free to try and start. I've gotten websites to 5K per month profit in just 7 months using the exact strategies in this post.
Before looking at particular niches we need to clear a few things up, though.
Profit Vs. Passion
Every month I take my collared shirts to the dry cleaner because for the life of my I can't get the wrinkles out of them. I figure it's easier to spend $20 to get 10 shirts laundered than to spend hours ironing with terrible results.
Anyway, the first time I got my shirts laundered I walked into the place and the owner was there. We started talking and I told him I'd given up on trying to get wrinkles out and he laughed.
After a few minutes of chatting he reveled he owns 20 dry cleaners all over the area.
According to this article from American Drycleaner (what a niche!) the average drycleaning business makes around $30,000 a year after all expenses.
Also, if you can sustain $30,000 profit for 3 years straight your drycleaning business is worth around $90,000 (you just multiply the yearly profit by 3). Drycleaning equipment is worth about $60,000 too.
If you were to sell this business after earning $30,000 profit for 3 straight years you would get between $120,000 to $150,000.
So as of now this man is most likely making $600,000 a year (20 dry cleaners making $30,000 a year profit). If each drycleaner is worth $120,000 to $150,000, he's also sitting on between $2.4 million to $3 million in sell-able assets.
Not bad.
My question to you is this: Do you think drycleaning is this man's passion in life? Do you think as a child he dreamt of getting wrinkles out of shirts? No. He dreamt of being a millionaire and he made it happen.
Making money doing what you love is a romantic notion and some people can do just that. For instance, Nerd Fitness is a website that focuses on fitness, health and dieting – for nerds.
The posts weave in Star Wars and Lord of the Ring references and workouts are based on Zelda, Mario and other video games.
This website gets millions of views a month and the owner is most likely a millionaire (the website is certainly work multi millions).
This is an example of a person turning his passion of fitness and nerd culture into a business and making it pretty big.
I'm not going to tell you which path to choose but this post is focused on profit minded affiliate models and not passion.
If you were asking for my opinion, I would tell you start making money first and outsource daily work load later. You can eventually outsource enough where you're only working on your affiliate site for a few hours a week. Once this happens, then you can focus on your passions.
Picking An Affiliate Program
So after you've grappled with following money or passions you need to decide on an affiliate program and content strategy.
Most people make the mistake of picking a niche before considering an affiliate program and contents strategy and I think that's a big mistake. This is especially true if you've chosen the profit path.
You need to look at your skill set and current financial status to determine what to do.
If you have thousands to spend on your new site then the world is your oyster. You can play around with Facebook or Google Ads, you can pay someone to write content for you, and more.
But if you're on a limited budget, you'll most likely want to focus on organic traffic from Google, Youtube and social media.
It takes a little more time to get results with organic traffic but you can do it for basically free (you'll need to pay for hosting which is as low as $5 per month and you'll have to buy a domain which is $15 per year).
You'll have to devote time to creating content, however. You'll probably need a few hours a day, 5 days a week to get good results in 6 months time (between $1,000 to $2,000 a month).
When I first started I had a full time job and then worked on my site at night. It was tiring but now I'm a full time internet marketer making more money now, working half the hours as before (still tired all the damn time, though).
Most of the content you write for your new niche will most likely fall into the following categories:
Best of lists and buyer guides (best mattresses 2019 would be example of this content).
Individual reviews (Amerisleep AS3 mattress review)
Product vs. Product review (Amerisleep AS3 mattress vs. Tempurpedic mattress)
How to articles (how to get sleep when you're restless or something like that)
Breaking news within your niche (Tempupedic sales are down. This is the content you'll be focusing on the least).
If you can find a niche that you can write a lot of best of lists, individual reviews, product vs. product articles, and how to's and the products tend to be over $100, you found yourself a good niche.
You can also build up an email list with your content and make an affiliate offer down the road. If you're new to affiliate marketing I wouldn't worry about email marketing right away and just work on content and organic rankings.
There's a few different affiliate programs you can choose from as well and my favorite is the Amazon Associates affiliate program.
Some people avoid the Amazon affiliate program because the commissions are low (Most niches can make between 4% to 8% per sale ).
Amazon commission rate: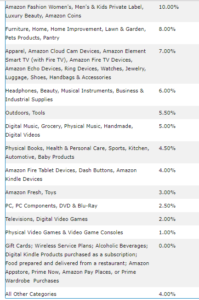 The niches I'm going to show you have products that cost hundreds of dollars and can bring in traffic in the millions per month, though.
You can make well over $10,000 a month as an Amazon affiliate marketer and I believe over $100,000 a month too. I've personally gotten websites to 5k a month in just 7 months with Amazon.
There's other affiliate programs like Shareasale, CJ affiliate and Clickbank.
Some niches have retailers that offer excellent affiliate programs too. For example, if you're entering the outdoor niche, retailers like REI.com, backcountry.com and EVO.com will work great for you.
Alright. Now that you have all this figured out, let's take a look at my top affiliate marketing niches now!
Bedroom Niche
This is a niche I really love and there's affiliate marketing websites in this niche that get millions of clicks per month. Plus, a lot of the products that you'll be writing about cost well over a $100 and this particular niche gets a commission rate of 8% on Amazon.
Finding keywords is pretty easy too.
First you'll want to check out the bedroom section on Amazon and look at the various categories:
You'll see different blankets, mattresses, pillows, mattress pads, lamps, bedframes, different alarm clocks, furniture and more. You'll want to check out large mattress retailers to get keyword ideas too.
Now click each of those categories and dig in deep to find keywords. For example, click mattresses and you'll see various types of mattresses.
Punch those mattresses into a keyword tool with the word best in front of it (best gel mattresses) or the word reviews at the end (gel mattress reviews) and see what you get.
You can play around with the keyword too. You can check out best gel mattress reviews or best gel mattress reviews 2019 and see what type of traffic you get. If you write the keyword "best gel mattresses 2019" you'll rank for all those other combinations as well, which means more traffic for you.
I personally use the keyword tool at Wealthy Affiliate to figure out potential traffic for keywords. All my potential traffic estimates come from data provided by that keyword tool.
Here's a few keywords that you'd want to target in this niche:
best gel mattresses
best hybrid mattresses
best innerspring mattresses
best latex mattresses
best gel foam mattresses
best twin size mattress
best queen size mattresses
best full size mattress
best queen size mattress
best king size mattress
best California king mattresses
Because there's so many combinations (you can add the year at the end or add the word reviews at the end), each one of those keywords will get you thousands of clicks per month if you rank for them.
Another way to find keywords is to go to Google and type in "best mattress for" and just go through the alphabet to find more ideas. So type in best mattress for a and see what autophills for "a."
Here's an example of what I mean: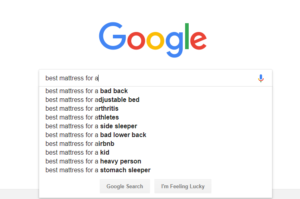 Then do best mattress for b and see what autophills for "b" and so on and so forth.
Here's some more keywords you get from that:
best adjustable bed
best mattress for arthritis
best mattress for athletes
best mattress for back pain
best mattress for back sleepers
best mattress for big people
best mattress for baby
And that's only getting to the letter b.
Now do what I just did for mattresses with all categories (mattress pads, pillows, bed frames). You'll easily be able to find over 150 keywords.
We haven't even gotten into individual reviews, Vs. articles, and how to's. There's enough content ideas to keep you busy for years and to bring in a lot of traffic.
Here's a bunch of different successful bedroom and mattress affiliate niche sites for you to study:
This website does exactly what I said to do up top. They have hundreds of best of lists, reviews and how to articles.
So how much traffic do they get:

800,000 visits PER MONTH! This is site is almost completely monetized with Amazon too.
I've found with these types of websites you usually send around 30% of your traffic to Amazon and then 2% to 4% of that traffic converts into a sale.
So if you have 800,000 clicks a month you're sending 240,000 clicks to Amazon. That amount of clicks may get you between 4,800 to 9,000 sales. If each sales gets you around $5 on average, you're looking at $20,000 to $45,000 PER MONTH in commissions.
Because mattresses tend to be expensive you're probably not going to have a high conversion rate but the sales you do get will make you a lot of money. A $600 mattress will get $48.
Now you see why I love this niche so much.
This isn't the only website making a killing in this niche either.
Look at the site Super Comfy Sleep.
This website is pretty basic and is one that anyone with a small (or no) budget can mimic.
Its traffic is pretty good too and gets around 200,000 clicks a month:

There's even more niche sites:
All these sites are exactly the same – a lot of best of posts, some individual reviews, some Vs. articles and how to articles.
This is an excellent niche for someone looking for a long term project where's there's plenty of room for growth. Also, it's an industry that's going nowhere. Everyone has to sleep.
Vehicle Electronics (Car, Motorcycle, Boat, RV)
The vehicle electronics niche may not have as many keywords and content as possibilities as the bed niche but the competition is less.
You can do car electronics all on its own but you might want to combine car electronics with the other options I mentioned in the title. This ensures you have plenty to write about.
You'll want to do your research in the exact same way you did with the bed niche. Go to Amazon and go to the vehicle electronics section and start coming up with keyword ideas.
Also go to Google and just search the term car electronics, boat electronics, motorcycle electronics and RV electronics. Look for major retailers for each keyword, this way you get the most content ideas possible.
Here's some options I found:
Here's some good keywords I found quickly:
Best radar detectors
best dash cams
best backup cameras
best backup cameras for RV
Best vehicle trackers
Best car stereo receivers
Best component car speakers
best coaxial car speakers
best car alarms
Best motorcycle gps
best rv gps
best car gps
best fishfinders
best marine speakers
best marine stereos
best marine antenas
best handlebar motorcycle speaker
best cellphone boosters for rv
You get the idea. After you come up with more best of's start looking for individual products to review.
This is another niche that'll keep you busy and one you can really grow into a brand. In fact, this is the kind of website that you can eventually hire full time writers for and really earn some serious commissions.
There's a few affiliate car and vehicle electronic websites you can study and look at too.
Car Bibles is a good example.
This website is dedicated to reviewing car electronics, car care and motorcycle products. It also has a blog that features how to and information articles.
So how many views does it get?

860,000 views a month! You think this guy is making money?
There's more websites too.
Car Audio Now is a website that focuses not only electronics for cars but boat and motorcycle too (guess they haven't seen the opportunity in RV's yet)
The traffic isn't quite as big as Car Bibles but it's still pretty impressive:

Car Audio Now follows the same blueprint as all the websites I've talked about so far. Best of's, individual reviews, Vs. articles and how to content. Every product links straight to Amazon.
This method can be duplicated in basically any niche that's big enough and has products that are over $100. Kind of like how a person can duplicate the success of a dry cleaner business in different towns : ).
Here's some other examples of car websites that get 100,000's of views a month:
And there's more.
This niche only has a 4.5% commission rate on Amazon but if you can rank for the high traffic keywords like best dash cams, best car stereos, best backup camera and others like that, you can make a lot of money here.
Natural Health
This is a niche that you can do a lot with. You can make a blog and collect emails – down the road you can sell different affiliate products to your email list.
You can make a Youtube channel and go over natural remedies and different herbs. I know a few channels that have millions of subscribers doing just that.
When I first started affiliate marketing (before I knew what I was doing) I started with this niche. I made  a few Youtube videos that were really, really low quality about the benefits of a few different herbs. I just made a screen recording of a power point and wrote a script and read from it – I didn't show my face or anything like that.
Each of those video ended up getting 10k views each and one has gotten over 40k. Those videos are good for years too. In this niche you'll see video from nine years ago still in the top 3 positions! That means you can make money off these videos for a decade.
If you want to do this niche I would go with either of those two options (blog and Youtube channel) and I would most likely do a combo of both.
There's so many different herbs and natural remedies to write about and to make videos about, you'll be busy for years making content.
To get good keywords just order a few books on herbs and natural remedies.
Go to the index in the back and you'll be able to come up with content ideas.
You can write and make videos about:
Different herb benefits (licorice root, black cohosh, ginger root)
Herbs for certain illnesses (best herbs for acne, best herbs for constipation, best herbs for heart burn)
Natural remedies for different illnesses (best remedy for acne, best remedy for constipation, best herbs for heart burn).
To make money you can either get a ton of views and have Google Adsense on your website (this niche has the potential to get millions of views so Adsense can work) or like I said up top collect emails and sell them something down the road.
You can go to one of the affiliate programs I mentioned earlier and pick a product like a natural tea, shakes and stuff like that. You'll want to avoid Amazon because the commission for health products is between 4.5% to 5.5%. Other affiliate programs may offer up to 75% commissions on certain products.
Same with Youtube. This niche can get you millions of views and millions of subscribers. You can probably earn a full time income with the just the revenue you get from ads.
But you can also add affiliate links to natural products in the description as well. Just in the beginning of the video tell your audience about the product quickly and to click the link in the description to see more about it.
Here are a few examples of people killing it in this niche.
First up let's take a look at the Wellness Mama. This is a website run by a mother who blogs about natural remedies and other natural solutions in everyday life.
This site is a behemoth and gets millions of views a month:

Over the years this website has grown and now offers affiliate programs, a podcast, cookbooks on Amazon and more.
Dr. Axe is another monster in this niche. This website is even bigger than Wellness Mama and this website gets between 8 million to 20 million views a month

Dr. Axe is no doubt a millionaire and sells many different natural products. He also has different fitness programs and more.
In terms of Youtube, there's many channels that are killing it too.
For example, the website we just looked at has a Youtube channel with 1.2 million subscribers and 120,000,000 million views overall.
Just on ad revenue alone this channel has made around $300,000 (you figure this out by dividing all the views by 1000 and then multiplying that number by 2.5).
Overall this channel has just over 700 videos. You're not going to make this many videos overnight but in a few years you can definitely make that many. If you look at Dr. Axe's channel you'll see about half the videos are under 1 minute long and the other half is under 10 minutes long. So you won't have to spend too much time making each video.
Going against Dr. Axe can be a little intimidating, though. He's handsome, has quality videos and editing and he's a Dr.
You'll be happy to know you can do well on Youtube in this niche without as much production value.
Check out the channel Natural Home Remedies. This channel makes videos that are pretty low quality – there's not even a narrator. It's just a video with no accompanying voice over.
Even with this being the case this channel still has over 80,000,000 views and nearly 800,000 subscribers. Most videos are only 3 to 5 minutes long and overall the channel only has 250 videos.
The typical person can replicate this channel with higher quality videos and better information in 12 to 18 months if you work hard.
So if you think you have to be like Dr. Axe to make in on Youtube, you don't.
Make Money Online Niche
Here we have another well paying niche with a lot of different options. This is the niche that this website is in. I've been working for years online and make a full time income outside of this site.
I decided to share my secrets and that's how I came up with The Affiliate Doctor. How this site makes money is by reviewing different affiliate marketing programs and making recommendations.
There's a lot of scams out there so most of the time I'm recommending people not to purchase a course. When reviewing a course I don't like, I make sure to tell people about courses I do like – usually Wealthy Affiliate (read review here) because it's the best out there. It's also where I learned affiliate marketing.
I also make high quality content (like the one you're reading now) in hopes you'll sign up for my email list. From there I can send you more quality content. It's my hope that by being honest and giving you so much value with every post you'll trust my opinion.
I take that very seriously. I would never recommend a garbage training program to you just to make a commission. Any program that I recommend and do eventually make a commission off of, has to be high quality.
So if you want to make it in this niche you have to find an offer that's valuable and will actually help people. You have to drive people to this offer and you'll be doing that through content (how to article's and program reviews).
Down the road you can even make your own course and market it to the people that you've built up trust with on your email list. Or you can even have your own affiliate program and have other bloggers sell the course for you.
There's a lot of different websites in the make money at home niche too. There's some absolute superstars like Neil Patel and Brian Dean. But there's other people you've never heard of that are quietly making hundreds of thousands and millions.
Some top affiliate marketing websites include:
There's many people who I know personally who have started in the last year and are already making 7k a month (imagine where they'll be in 3 years).
A lot of these people I've met and learned with inside Wealthy Affiliate include:
And more.
You can also make a living in this niche off of Youtube. Franklin Hatchett is one of my favorites and writes about different affiliate and Ecommerce opportunities.
He has almost 100,000 subscribers and has millions of views on his channel all together. He has different courses he sells (Savage Affiliate and Ecoms Elite) and he just links to them in the description.
He also makes money in different niches. Add everything together and he makes millions a year and is definitely someone you'll want to follow.
Even people like Brian Dean and Neil Patel have Youtube channels. They understand the trend is going towards video and they don't want to be left behind.
I personally think Youtube is a better opportunity than Google and every person who wants to make money online needs to look into Youtube. Any niche can work there and it's not nearly as hard as you think.
My only advice with the make money at home niche is not to start off with it. Become an Amazon Affiliate in one of the other niches first. Learn about the internet and have some success before you start giving out advice.
Outdoor And Sports
This niche has become a little crowded over the last few years (it's one I was in for a while and did well in) but there's still plenty of opportunity in it.
Like the bedroom and car niche, you'll be focusing heavily on best of lists, reviews and comparison articles.
Again, you can just go to the outdoor and sport section of Amazon and check out the different categories – you'll see team sports like basketball, baseball, hockey and more. You'll also see outdoor activities like hunting, hiking, camping, fishing, climbing, etc.
If you're going to choose a niche like basketball, baseball and golf you can do the best of's (best basketball shoes, best bbcor bats, best baseball cleats, best golf drivers, best golf shoes) and the individual reviews and comparisons posts but I'd also run a very good informational blog to build an email list.
The reason I say this is there's good training videos that offer good affiliate commissions for each of these sports. So you make money by reviewing different equipment and by recommending different training series (how to improve vertical jump, how to hit better, how to drive golf balls better and other videos like that).
Niches like hunting and hiking/camping should mainly be about best of lists and reviews, though.
Like every other niche listed in this posy you can drive millions of clicks a month by doing just that.
One of the top outdoor websites is Switch Back Travel. This site follows the standard content strategy of compiling the years best equipment in different categories and reviewing individual pieces of gear.
They do full buyer guides as well. So you're not only getting Switch Back Travel's recommendations, you're also getting information on what to look for when you make your purchase.
So how many views does a website like this get:

Millions.
You don't have to just link to Amazon in this niche either. If you study Switch Back you'll see they link out to Amazon, REI.com, Backcountry.com and EVO.com.
REI, Backcountry and EVO have very good affiliate programs and you can earn up to 12% on sales, based on your volume (you start at lower commission rates and as you sell more the commission rates go up).
Amazon offers a commission rate of 5.5% on outdoor products and 7% on clothing and shoes (so hiking boots, jackets and stuff like that get you 7%)
Other websites that do well in this niche include:
All these websites share the same strategy and get lots of clicks a month. New gear is always coming out too, so you'll always have something to write about.
Shaving and Grooming
There's a lot you can do in a niche like this. You can make a whole men's lifestyle website and include various shaver reviews, as well as other manly content.
One thing I know for sure is you can make a lot of money if you rank for the term "best electric shavers."
How do I know this? The person who ranked first for that term in Google shared his data and profits, which you can read about here.
This one keyword drove 32,000 clicks a month and made somewhere around 8k a month.
Do I think it'll be easy to rank for the term best electric shavers? No. There's some stiff competition for that term and you're going to have to work hard to get into the top 5.
But it can be done and is very profitable to do so.
There's other keywords you can target too like best beard trimmers, best straight edge razors and other topics like that.
One website, Balding Beards, gets over a million views per month!
So there's definitely a market here.
I also know someone who made a grooming website and got it to 1.5k a month in a relatively short amount of time and then sold it for 25k. He then used the money to grow out more sites and eventually started Human Proof Designs – I believe he's making over 30k a month now!
Shoes
Here is another niche that anyone interested in being an Amazon Associate will want to consider. Like the car, bedroom and outdoor niche this one relies heavily on best of posts, reviews and comparisons.
Just like those niches, the shoe niche has the potential to get millions of views per month.
Think of all the posts you can write:
Best running shoes 2019
Best walking shoes 2019
Best work boots 2019
Best winter boots 2019
Best basketball shoes 2019
Best tennis shoes 2019
Best steel toed boots 2019
And on and on and on. There's literally hundreds, if not thousands of different shoes and you can make money on every single one of them.
You can also get a lot of extra traffic by putting "for wide feet" or "for narrow feet" or "for feet with high arches" too.
I once ranked for the term "best hiking boots for wide feet" and that article alone would get me 1500 clicks a month.
I also ranked for best basketball shoes 2018 (I sold this website for $40,000) and this keyword got me nearly 3,000 clicks a month.
So this is a niche with unlimited opportunity.
One website that does well in this niche is Nicer Shoes. Nicer Shoes does exactly what I described up top and makes a bunch of best of posts revolving around shoes – they do reviews too.
The traffic?

Millions a month.
One thing I hope you're noticing is the top websites in all the niches I've talked about get close to a million views a month or over a million views a month.
It takes a little time and hard work to reach these levels but it's possible once you know how these sites do it. It's all in the niche selection, keywords and quality of the article.
If you can master those three aspects then you'll do just fine with affiliate marketing.
Another website that does well in this niche is Comforting Footwear. The thing about this website is it's almost as basic as you can get. There's no special effects and any person can make a website like this. In fact, most people will be able to make a website that's better looking.
That's good news because it gets a lot of views per month:

As you can see you don't have to have a million dollar website to make money and get views online. Even ones that look like they were made in the 80's do well.
Nicheless or General
Before you enter the make money at home niche I recommend you have some knowledge and experience – I have the same advice with a nicheless site or nicheless Youtube channel.
The reason is Google and other search engines tend to rank content based on authority. If you're in the car niche and you write an article on mattresses (even if it's really good), you're most likely not going to rank anywhere near page 1 – there's plenty of high authority mattress websites that'll beat you out.
So when you do a nicheless website you're giving up authority, which some people think is the number one thing search engines look at.
But if you're a good keyword researcher you can find very low competition keywords (most likely best of posts) that you can rank 1st for.
A newbie will have a hard time finding these keywords because it takes a little skill to find.
But once you know how Google or Youtube works and you know how to rank keywords at a high rate, you can consider going nicheless.
A good example of this type of website would be Top Ten Reviews. This site writes buyer guides and best of posts for the following topics:
Home and garden
Money
Software
Holiday deals
and more. It's important to note this site is run by a corporation that runs several large websites in different markets. Top Ten Reviews most likely has a staff of writers and you won't be able to match their output by yourself. It does give you a good idea of what you can reach over time and with the right investments (hiring writers and creating a nice looking website).
It's worth the effort if you have it in you because this website gets over 6 million views a month:
Best Reviews is another example of this kind of website. They write posts in every niche possible and get around 5 millions views per month. Again, though, there's a staff of people working for this site and it'll be impossible to create as much content as them by yourself.
Youtube is a great way to do this kind of nicheless affiliate marketing.
There's plenty of channels on Youtube that make best of videos in different markets and get millions and millions of views.
A few good examples are:
All three of these channels make pretty generic videos ranking different products – they don't own the products themselves and the videos aren't anything special. They put an Amazon affiliate link in the description for each product and get sales that way.
I wanted to test how these videos convert and made a channel like the ones above. My first video started making me money pretty quickly and made me $350 in the second month:
This video only took me one day to make and is making more and more each month. In all this one video is going to make me a few thousand dollars (not bad for one day's work!).
Also, I'm getting around 7k views a month from this video. That's decent but you can definitely make videos that get more – some videos from the channels I showed you above get nearly a 1,000,000.
As long as you have a good video editing software like Camtasia, you'll be to make quality videos that converts.
Now Go Make Some Money!!
The most important thing about selecting a niche is understanding the principles of a good niche. Up top are niches you can get into right now and make money with. But if you understand why they're great niches, you'll be able to recreate your success in new markets over and over and over.
That's how a person who runs dry cleaners becomes a millionaire. He or she doesn't make a million from a single store – they replicate their success until they're millionaires.
Same with affiliate marketing. Very few people make a million from one site. But there's plenty of people making a million from multiple sites.
Any niche that has lots of best of posts, lots of reviews and has products that are over $100 is a good niche.
If you create good content around those keywords you should rank just fine in Google and Youtube.
If you have any questions about what you read here, feel free to comment below and I'll answer back. If you think the information was valuable make sure to sign up with an email so you get notified about new posts.
Now go pick a niche and make some money!