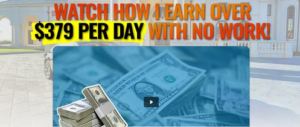 Product: Easy Cash Club
Price: $37 and upsells
Rating: 20/100
Overview: Easy Cash Club is software that helps you create videos for Youtube and supposedly will bring you a lot of traffic. The problem is the videos that this product creates for you are VERY low quality and are videos no one will want to watch – I should know I makes videos on Youtube.
If you're looking for an actual way to make money online, I would consider checking out Wealthy Affiliate. This is where I learned affiliate marketing and their training allowed me to quit my job and make a full time living online.
If you want to read my full review of Wealthy Affiliate, click below:

---
What Does Easy Cash Club Teach?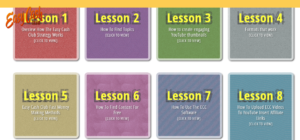 Easy Cash Club teaches you how to drive traffic and earn sales from Youtube, which is definitely a strategy that can work (just not by following what Easy Cash Clubs says to do, though).
Youtube is the second largest search engine in America and is growing every single day. There's some people who believe it will one day take over Google as the biggest search engine.
There's many different ways you can make money on this platform too and one good way is with affiliate marketing.
For instance, I wanted to test out affiliate marketing on Youtube and I made 5 videos which probably took me about 15 hours. Each video was made with Camtasia and weren't anything special – any person could recreate what I did.
So how much did I make in Amazon affiliate sales from November 1st 2018 to January 29th 2019?
Over $1100!
In all I got 42,000 views and gained 100 subscribers. Part of my strategy going forward, is to make more videos.
The problem with Easy Cash Club is you don't makes videos and instead right a script and the software creates a video for you. The good news is you can make videos in minutes instead of hours and the bad news is they are very, very, very low quality.
Instead of using your own voice or a human voice, the program creates a robot voice that viewers HATE. I know this for a fact because I study Youtube videos a lot and one of the biggest turn offs is a robot voice.
Also, the program gets pictures for you and it all just comes out as clumsy. People will be more likely to click away from the video than to want to buy anything you suggest.
Let's go over what's actually in the course now.
Lesson 1
In this section you get an 8 minute video that goes over the strategy in general terms. It goes over how you will be making videos and how they will get you traffic.
Again, I think Youtube is an amazing way to make money and the idea of creating videos with affiliate links is great (I do it and make thousands from it). But what's explained in this course isn't the way to do it.
Lesson 2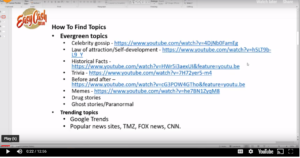 In this section you're "taught" how to find trends that are going to get you a lot of views. While these topics are good for getting views and subscribers, they aren't good for affiliate marketing, which this course is supposedly teaching you.
For affiliate marketing to work your video has to be related to what you're offering. You can't just have a video on celebrity gossip and then try to sell a health product.
So I wouldn't pick any of the trends above unless you have a product you're marketing that goes along well with it.
Lesson 3
This section is dedicated to creating thumbnails and this is pretty important for Youtube. If you have an attractive thumbnail you will get more clicks and views. Youtube actually factors in click through rate when determining ranking too. So a good thumbnail will make your videos show up higher in the rankings.
The advice given is very general, though, and you can find it for free by Googling or going on Youtube and searching how to make a thumbnail. Here's one for example:
The advice in this video is the same as the advice in Easy Cash Club – they recommend using Canva to create your thumbnail. The main difference is the video up top is more in depth than the one in the training course.
Lesson 4
This section goes over the different styles and formats of videos you can use. The narrator suggests making lists, making videos on viral stories, quotes and stuff like that.
Again, these might get you views but they're going to be hard to turn into affiliate sales. I focus on lists but I focus on product lists and then provide a link to each product. That make sense because people are searching for the products I'm talking about and it's easier to get a sale that way.
Lesson 5
In this video you get another overview of the Easy Cash Club system and it focuses mainly on searching for trending topics. The narrator shows you how to use Google Trends and Google Keyword planner to check how much traffic you can expect.
This information has been covered already and is more just a reminder.
Lesson 6
Lesson 5 teaches you how to find pictures and audio that you can use for free. This is actually a pretty important video because you can lose your entire channel if you use copyrighted images.
I've seen channels that had millions of views and were probably making a lot of money get wiped out overnight. So always make sure to use royalty free images and audio in your videos.
Lesson 7
This is the lesson you finally get to see the software in action and you get see how videos are made. You basically write a script and the software turns it into a robot voice.
Again, robot voices are a major turnoff to viewers and most people will not like that your video has a robot voice. It comes off as scammy and it's just not enjoyable to listen too.
Also, you you see how the program finds pictures for you. If you typed in "Donald Trump" it would get a bunch of free pictures for you and put the audio over the pictures.
The video that's produced is terrible. No one is going to take you serious if you upload this type of content.
Lesson 8
The last lesson in the course is how to upload your video and add affiliate links to the description. This is a pretty self explanatory process.
But like I said your affiliate offers are going to be ignored because they have nothing to do with the video. You can't just show some gossip video and then expect to sell them on a product that has nothing to do with gossip.
This is a failing strategy and it's better to become an authority in a single topic and sell products within that market.
What I Like About Easy Cash Club
I spend a lot of time writing about affiliate marketing on Youtube. I just think it's a great way to make money and you can make videos with a low budget.
So I do like the idea that Easy Cash Club shines a light on Youtube. This is about all that I like, though.
What I Don't Like About Easy Cash Club
Pretty much everything.
This program doesn't teach you the right way to make money on Youtube. It teaches you to ride trends and not to build a real, genuine audience. All that's going to happen is you'll be making low quality videos that no one will want to watch.
In fact, the videos you upload will be so bad people may get angry at them. You may get clicks but no one will take you seriously. And no one will want to click on your affiliate link.
People have to trust you in order to take action on your recommendations. No one will trust you with these kinds of videos.
Don't Buy Easy Cash Club
This course just won't teach you what you need to know to be successful on Youtube. You have to treat it like a business and deliver high quality content. If you follow the advice in this course you will be doomed for failure.
Money can be made on the internet, however, and the best place to learn how is Wealthy Affiliate. This is where I learned affiliate marketing and make more money now than I did in any other job.
Here's how it stacks up against Easy Cash Club:
As you can see Wealthy Affiliate is way better and can actually teach you how to make money online.