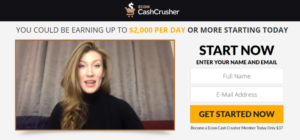 Product: Ecom Cash Crusher
Price: $37 and upsells
Rating: 0/100
Overview: Ecom Cash Crusher is a scam and uses deceptive sales practices to get you to buy (fake testimonials, outrageous profit claims and more). The training is very LOW QUALITY too and you won't succeed in Ecommerce by following the advice in this course.
If you really want to make money online and be a full time internet marketer like me, I would suggest checking out Wealthy Affiliate. Wealthy Affiliate has top of the line training and has all the tools to help you succeed online – there's a community of 1 million marketers who you can ask questions and get help from too.
Check out my full review of Wealthy Affiliate by clicking below:

---
What Does Ecom Cash Crusher Teach?
Ecommerce is definitely a growing industry and creating an Ecommerce store has never been easier. Shopify is an awesome place to open a store and makes life so simple.
But Ecommerce and dropshipping can be complicated and in order to make money you need to know how to advertise and drive traffic.
This is what Ecom Cash Crusher supposedly teaches you. The problem with Ecom Cash Crusher is the training is so basic and never goes in depth into anything.
It also only teaches you how to dive traffic traffic with Facebook Ads. While Facebook Ads are an excellent way to make money with Ecommerce, there's plenty of other ways to get people to your site too.
For instance, Instagram, Google Shopping Ads and Google Ads are excellent ways to get traffic.
There's also no training on offering discounts, upsells, email marketing or any other tips that can improve your sales over 50%.
If you end up following this course you're just going to end up throwing away money in Facebook ads and not making any money.
Ecom Cash Crusher Uses Fake Testimonials
If I was just grading Ecom Cash Crusher solely on its training I would give it probably a 30/100. But the owner of this course does one of the most deceptive practices online and whenever I see this done I automatically give the course a 0/100 – they have people make false profit claims in the sales video.
Below is a screen shot of two people who supposedly make thousands a day from this training:

Pretty impressive, right? Nope..
These people belong to a website that's called Fiverr where people put of listings of online jobs they're willing to do. This woman and man have ads saying they will make testimonials for your company: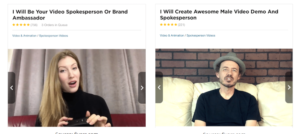 As you can see these people don't make thousands a day because of this course and neither will you. The reason the owner doesn't post any real success stories is there aren't any.
This is the biggest red flag imaginable and should scare you away from purchasing Ecom Cash Crusher. If you're still interested in seeing what's inside the course, read on.
Inside The Ecom Cash Crushers
Once you purchase the course and get past the upsells, this is what you get: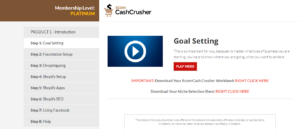 It's honestly not the worst looking website and it's pretty easy to use. Everything runs smooth and there's nothing confusing about its design. Also, there's no long loading times or anything like that.
That's about all the positive things I have to say about this course, however.
The training is a generic as it gets and you can easily find the same information on Youtube for free.
Goal Setting
This is the first section of the training and is something you can probably just skip over. It's just an overly basic video about the importance of goal setting and deciding on what you want your future to look like – nothing you haven't learned a million times before and there's zero chance this 3 minute video teaches you anything new.
Foundation Setup
This section focuses on:
Foundation Setup
Finding your domain
Finding your niche
Which websites to use
Again nothing new here and nothing you couldn't find by just going to Youtube and typing in Ecommerce niche selection or anything like that.
Dropshipping 
In this section you learn about where you're going to be dropshipping your products from. The website you'll be using is Aliexpress and Aliexpress is China's version of Amazon.
This is a common strategy and Aliexpress is definitely a viable option for people new to Ecommerce and dropshipping.
In fact, this is probably the most popular method for Ecommerce at the moment.
Shopify Setup
The website you'll be using for your store is Shopify. This 100% is the best option, especially with people new to dropshipping.
Shopify makes handling orders, adding new stock and the checkout process very easy. It's by far the best place for people looking to get into Ecommerce.
The training here is not enough, though. There's so many tips missing and all you get is 5 very short videos. You're better off going to Youtube and searching "how to set up a Shopify store."
You'll have better luck doing it that way.
Shopify Apps
Having the right apps for your Shopify store is very important and there's some key ones you 100% need. For example, if you're getting products from Aliexpress, you need the app Oberlo which the training mentions.
The only other app mentioned in this part of the training is an email pop up.
There's SO many more apps you can use that increase your sales well over 50% that aren't mentioned in this training. For instance, there's apps for upsells, apps for abandon carts, apps that make the buyer want to purchase now (timer or popups that show other people buying products).
The owner of this course really does his customers a disservice by not mentioning any of theses apps.
Shopify SEO
Free traffic is always the best traffic but you're going to have a hard time driving free traffic to an Ecommerce store – that's more of an affiliate marketing thing.
But it's still important to go over. The training here isn't enough, though, and you shouldn't expect any free traffic by following the advice here.
Facebook Crusher
The last section focuses on Facebook Traffic and this is how you'll be driving traffic to your website. In all honesty there's many ways to get traffic and a good course will focus on more than one.
Facebook can get pricey quick and before you know it you can throw away thousands of dollars and not see any results.
But when mastered it can make you a lot of money and be your ticket to making a fortune online.
The problem here is this Facebook training isn't NEARLY enough to help you be successful. Again, it's too basic and overly simplistic. This training makes it seem like it's so easy to make money from Facebook but it's not.
You should purchase a separate Facebook training course if you're interested in running ads on this  platform.
What I Like About This Course
There's honestly not much. I guess the design of the website and how easy it is to jump from video to video is a plus. This won't help you make money, though.
You also get a 60 day money back guarantee because it's sold through Clickbank.
What I Don't Like About This Course
Basically the entire thing. First off, you have the fake testimonials from paid actors. This is one of my least favorite sales tactics and I find it very deceptive. A quality course will have plenty of students to show off and won't have to lie like this.
The training isn't very good either. For you to succeed on Ecommerce you have to have top of line training and up to date tactics. You're not getting that here and instead get very basic and general information.
Don't Purchase This Course!
There's plenty of good training out there to help you succeed online but Ecom Cash Crusher isn't one of them. I don't recommend you purchase this training and you should stay far away from it.
If you are interested in creating a full time income online, you should check out Wealthy Affiliate. This is where I learned affiliate marketing and is the best place on earth for both beginners and experts.
You get everything you need to get ahead including top of the line affiliate marketing training, a huge community to help you, website builder, hosting, support and more.
Look how it stacks up against Ecom Cash Crusher:
The best part is you can try Wealthy Affiliate completely free! Make sure to read my full review and stat your journey to making money online!