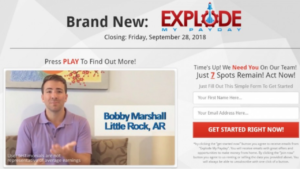 Product: Explode My Payday
Price: $47 and Upsells
Rating: 0/100
Overview: Explode My Payday is a scam and has all the hallmarks of a scam. For instance, they make outrageous income claims, say you can basically make money without working and use fake testimonials (I'll prove this later) to try and sell you the course.
This program won't work and you'll be wasting your money if you pay for it. There is, however, courses out there that are legit and can help you make 10k+ per month online.
The best course is Wealthy Affiliate. This is where I learned to make a full time income online. If you want to read my review of it, click below:

---
What Is Inside Explode My Payday?
The sales page for Explode My Payday is so low quality. The audio of the sales video sounds like it was created with a $20 mic.
Another thing that's laughable is the so called "creator" of this course. It's so obvious the person talking and the picture they show of the "owner" Meghan is not the true owner. It's my guess the person who made this course doesn't want the public to know their identity.
The photo of the "owner" is actually just a stock photo of some woman kayaking on Shutterstock (a website where you can get free photos):
The so called owner: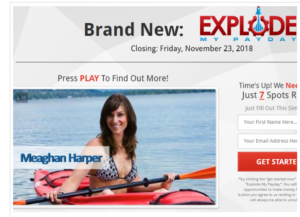 The stock photo on Shutterstock: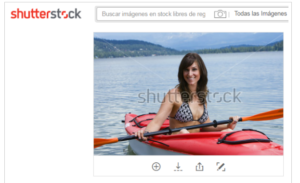 Womp womp.
The reason for this is I'm 100% positive who ever owns Explode My Payday has created scam courses in the past. If people learn the true identity of this person they'd avoid all courses in the future from them.
Anyway, got the sale page, entered my burner email address (I don't want them to have my real email address), and got to the sales page. In the corner a little popup showed up saying someone just bought the course from Carmel, NY (that's where I live). The problem? I didn't buy the course yet. So they're trying to trick you into thinking there's people buying this course when they're not.
I really didn't want to buy this course but to review I had to (Clickbank products have a 60 day money back guarantee). So I plugged my nose, entered my payment information and bought the course.
Time to review! Not quite..
Once you buy you get sent to another sales page and have to watch a video trying to upsell you a $200 course. You can't get to the training until you watch this video.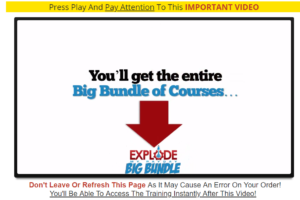 This is specifically made to nickel and dime people that are new to internet marketing. This second course is supposedly where you'll learn the really good stuff.
And you know what? Your training doesn't show up after the video is done like the page claims. You have to go into your email and click a special link to get to the training (this never gets explained to you).
After jumping through all these hoops I finally get to the training and it's disappointing. I've been doing affiliate marketing and making money online for 3 years now. I know what it takes to make a full time income.
It legitimately makes me sad to see training like this because I can't help to think about all the beginners who've taken this course. Good people have put money into this program (and maybe even bought the extra $200 course) and I know they didn't get the information they need to succeed from Explode My Payday.
I'll go over step by step what's in this course but I want to talk about something before that.
This Course Uses Fake Testimonials 
If you're curious about this course and perhaps a beginner you may be saying to yourself "but what about the people in the testimonials that are making all this money?"
Explode My Payday uses one of the worst and most deceptive practices on earth – paying people to make false claims about how much they make.
There's a website called Fiverr where you can pay people to do pretty much what ever you want them to. One thing you can do is pay people to do testimonials and that's exactly what the owner of Explode My Payday did.
Here's some proof:
Testimonial about Explode My Payday: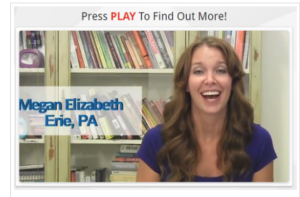 Here's her ad on Fiverr saying she'll make testimonials for you: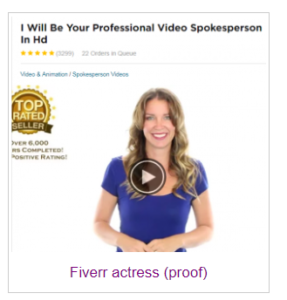 She didn't even change her shirt..
Here's another:
This is something a lot of scammers do. Here's another terrible training course that does the same thing. If this doesn't make alarm bells go off in your head I don't know what to tell you.
The Training.. 
The training is horrible. There's video training but they don't actually show you how to do anything. I'd say the quality is on par with a 7th grade power point presentation.
There's no in depth training. Complicated topics that need thorough explanation get explained in 3 minute shoddy videos. There's no personal experience or examples. There's something so impersonal about this training, it's pretty hard to explain.
In all there's 11 modules with about 5 to 15 extremely short videos in each section.
Module 1: Affiliate Marketing Basics
In this section you get an extremely brief and way too short explanation about affiliate marketing and how you make money from it.
In all there's 5 sections that answer the who, what, why, when and where of affiliate marketing. You can find a thousand videos on Youtube that do a better job explaining affiliate marketing for free than these videos in this module.
A complete beginner will most likely not learn anything of value here.
Module 2: List Building
List building means collecting emails and building a relationship with people on your email list over time. This is a valuable skill to have because you can later sell products to these people down the road.
In this section there's 9 videos but not all the videos have to do with building an email list.
For some reason in this section they decided to add videos about finding a niche, content creation and how to drive traffic. These are really, really big topics in the world of affiliate marketing – probably the three single biggest parts of affiliate marketing.
To just stick them in the email section is really confusing. They deserve their own section with multiple videos explaining each topic.
Like the last section everything is way to basic and the person presenting the information doesn't spend nearly enough time talking about everything.
Module 3: Niche Marketing Course
Niche marketing is affiliate marketing and in this module you get 9 overly simplistic videos to explain everything.
Niche marketing is what I do to make money and I have sold websites for $40,000 and gotten websites to 5k a month in under 7 months. There's not many people that can say they've done that before for free.
So I am more than qualified enough to say that the training here isn't enough to help you make money. They just hit cliches like pick the right keywords, make valuable content and overly vague terms like that.
They don't actually tell you how to do those things or show you examples of how to. Again, think 7th grade power point here. That's the quality and level of information you're getting.
Module 4: Facebook Marketing
Marketing on Facebook has created millionaires basically over night. Most people lose money, though. I've run Facebook ads before and know how complicated things can get.
If you follow the training in this module you will QUICKLY lose money. If you're not careful you can lose thousands in no time (a few days).
If for some reason you decide to purchase this course (please don't), skip this section entirely. It's some of the worst Facebook training I have seen in my life.
Module 5: Video Marketing Course
You know how I said the videos in this course are like a power point presentation from a middle schooler? Would you listen to the advice of someone who produces such low quality videos on how to make videos?
No. No you wouldn't.
Again, they take a concept that's very difficult and takes years to really master and just breeze through it. There's no step by step training. There's no real life examples.
It's just cliche after cliche after cliche.
Module 6: Ecommerce Marketing Course
This is the most pathetic module of all.
Ecommerce is hard and takes a lot of training to get right. My favorite Ecommerce course has over 150 20 minute videos with step by step instructions on how to master Ecommerce.
How many are in this module? 8 and they're just a few minutes long each. This section is absolutely worthless and give no actual insights on how to make money with dropshipping. Skip this section and don't even waste your time.
Module 7: Law Of Attraction Course
Yep. A law of attraction course.
Ugh..
Module 8: Mediation Course
I don't even know what to tell you. You bought a course on making money and you got law of attraction and meditation training.
I don't know what the creator of this course was thinking. I really don't. Of course the information on meditation is horrible and doesn't even teach you how to meditate.
Module 9: Explode My Payday Course 
Here I was thinking this entire time I was taking the Explode My Payday course but apparently that's saved for module 9.
This section is just a mishmosh of different topics like setting up hosting, creating your website, selecting affiliate offers and more like that.
The information is outdated and poorly shown. Again, no step by step instructions or examples. You can easily find all this information (better quality too) on Youtube and Google.
Module 10: 1000 Done For Your Campaigns
In this section you have to download 1000 different marketing campaigns that have supposedly made 100's of thousands of dollars this year.
I didn't download the file because I don't want it on my computer. The person who created this course used a fake picture of themselves and fake testimonials – I have no clue if there's a virus or something like that in this file.
I do find it funny that this text is above the file to download:
"You're going to have to sort through them and figure out which ones are best for your marketing efforts. These work great with solo ads, email blasts, and autoresponder campaign."
So it's your job to sort through a 1000 different campaigns, go through them all and see which work for you.
If you're a beginner you aren't going to know what you're looking at. Even if you aren't a beginner do you really want to go through a 1000 different campaigns? You don't even know if they've actually made money. I wouldn't put it past the creator of the course to lie about the figures of these campaigns.
Module 11: My Secret Tools
Another section you can skip completely. In this section the narrator shows you different tools that he suggests you buy. It wouldn't surprise me if the creator of the course was paid to push these tools or even owned the tools.
Explode My Payday Is SCAM
There's no doubt about this one. My Payday is a scam through and through and I wouldn't recommend it to my worst enemy.
Everything about this course sucks. The owner is fake, the testimonials are fake, they try to upsell $200 courses before you can access the training you paid for, the training is awful.
There's not one thing I like about this course and this training is solely designed to take your money. You will never make a full time living with the information provided.
There is good news, though. Not every course online is a scam and there are ways to make a lot of money online. I learned at Wealthy Affiliate and it is BY FAR the best places for affiliate marketers.
Look how it stacks up against Explode My Payday:
If you're serious about making money, do yourself a favor and check out my review of Wealthy Affiliate – you're going to really like it!