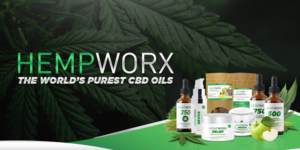 Company: HempWorx
Price: $59 to $619
Money Making Method: MLM
Rating: 5/10
Overview: Looking to make money by selling CDB oil with HempWorx? If you are I would consider trying a different way of making money, like affiliate marketing.
In this post I'll go over both the the MLM model which is how you'll be making money with HempWorx and I'll be going over the quality of the HempWorx products (and CBD information oil overall).
If you are looking for the best way to make money online, you should look at Wealthy Affiliate. This is where I learned how to earn a full time living and you get every tool needed to succeed.
Check out my review of Wealthy Affiliate, below:

---
What Is Multi-Level Marketing? 
Multi-level marketing, also known as MLM, is a home based money making scheme that requires you to both sell a product and recruit people to sell underneath you.
Here's how it looks: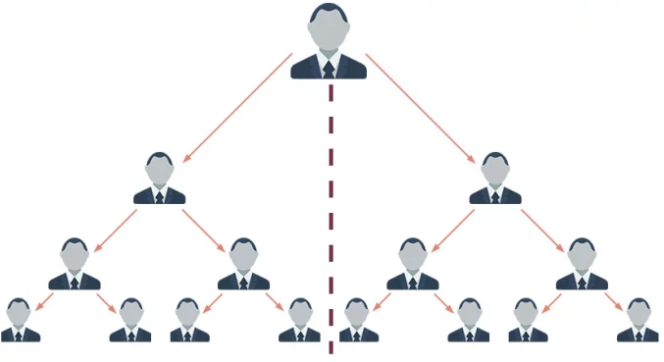 Notice the shape of it? Kind of looks like a pyramid..
That's because it basically operates like a pyramid scheme and the only way to really make money with MLM is to be the person at the top or near the top.
The person at the top not only makes money for the products they sell but they get a piece of every person's commission that they recruit and the people that get recruited by the people you recruit and on and on.
If you can get 5 layers of people selling, you can make a lot of money. BUT over 90% of people fail and the median average for a YEAR of works is only $2400 – that comes out to around $6 a day or in terms of a hourly rate for 40 hours work week about $.82 a hour.
Most people in fact just lose money because they never sell or recruit enough to pay for the monthly supply of products.
Here's a video that digs a little deeper into MLM's and why most people consider it a scam business opportunity:
As you can see it's hard to succeed and a lot of times you just end up pestering friends and family to join or buy the products. Yuck.
I much prefer the affiliate marketing method because it allows you to make money with your hobbies and you can enter any market on earth. You can get started for basically free and you won't have to bother your loved ones to succeed.
MLM's Are Hot For 2 Years
It's is CRUCIAL to get into a MLM early. If you don't the market will likely be saturated with the product, you'll have less people to recruit from and you'll most likely be stuck selling under someone instead of being at the top of the pyramid.
Another thing to consider is MLM's usually die off in 2 years. Some stick around for a while but even after the 2 year hot period the chances of making money get slimmer and slimmer.
Keep in mind you'll always be starting over with new products, in new markets. You'll always be rebuilding your downlines (unless you can convince the people you recruited to stay under you and not go off on their own).
Affiliate marketing is a sustainable business and you can work for as long or short as you want in one market.
How Much To Get Started? 
Like all MLM's there's a price to get started. The good news, however, is the initial start up price for HempWorx and most MLM's is cheaper than starting a brick and mortar business.
A brick and mortar will likely cost over $100,000 which requires most people to take out a business loan. The success rate with a brick and mortar isn't very high either.
If you want to be considered a HempWrox distributor you have to pay a $20 startup fee and have to order at the very least $59 in products per month.
This is why MLM's are so attractive because the start up costs are minimal. People forget to think about how they're going to sell a product and the strain it'll put on their family and friends by forcing them to be apart of the scheme.
I'm willing to bet HempWorx makes A LOT of money off of their "distributors" buying the products to sell.
How Much Can I Make And What Are Payouts?
Like I said in the last section, you're more likely to lose money and the median salary comes out to $2400 for the year. But according to HempWorx it is possible to make a $1,000,000 per month if you're apart of this company.
Just so we're clear they don't actually say anyone is making $1,000,000 per month and I'd almost be willing to bet my life no one is actually making that much.
Also to be clear, it's really, really hard to decipher how the payouts work. If you want to check it for yourself you can by clicking here.
I've been staring at the page for about 20 minutes now and I think I have a slight idea on how it works.
This chart is the easiest to figure out: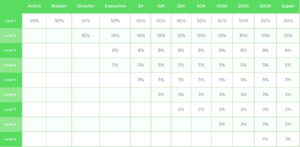 When you first start you are considered an affiliate and your purchase the HempWorx CBD oil products at a 25% discount. So every sale you make, you're making 25% commissions.
As you go up levels (which is based on how much you sell), you get larger commissions. The 10th level is where you earn up to 85% commissions and you could technically make $1,000,000 per month.
Then we get into your downline and how much you could earn from people you recruit and people they recruit (these are referred to as legs).
This table talks about how much you can make from your downline: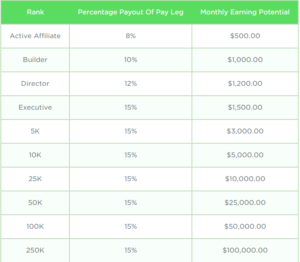 According to the chart (part of it got cut off) you can earn an additional $1,000,000 per month with your downline commissions.
And then you can make even more money with the Leadership Check Matching program as described by the chart below: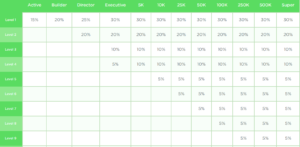 This is where I kind of get lost. I wish I could explain exactly what this chart means and how much earning potential it means for you but I just don't really know what these numbers mean.
After that, HempWorx sets aside 2% of yearly revenue to give out to certain people. Again, descried by the chart below:

Like the last chart I'm not entirely sure what this means and how much you could possible earn from it.
Next, you get a one time bonus for reaching certain levels (chart below):
This is a little easier to understand and each time you reach a certain rank you get a little bonus. It would seem all bonuses are 10% of the total amount you sold.
After that you get a car bonus if you reach certain levels and HempWorx will pay the bill of your car up to a certain point. Down below you can see how much they're willing to pay:
This is a pretty cool little incentive but keep in mind the odds of getting to 5K per month in sales is not in your favor and probably the top 5% make that. So if you reach the top 5% HempWorx will pay $150 per month for your car.
And then lastly, once you get to a certain point, Hempworx will pay up to a certain amount of your monthly expenses as described below: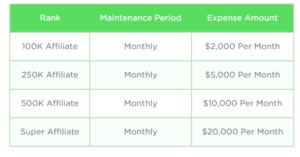 If you're making these commissions PER MONTH you are traveling the world and paying a lot of month to get recruits to sell for you. This money is intended to offset some of those expenses but you can spend the cash however you please.
So that's the commission structure. Some of it makes sense to me and other parts don't.
There's programs where you can make $10,000 per month and the payout commissions are much, much simpler.
>>>>>>>>The Easiest Commission Structure On Earth<<<<<<<<
CBD Oil Isn't Exactly Legal Yet
Before we get into the products, you should know about the legality of CBD oil.
CBD is a chemical found inside marijuana and hemp. According to federal drug laws, any extract with one or more cannabanoids from a Cannabis plant is a schedule 1 drug – which CBD oil is. Keep in mind a schedule 1 drug is the worst kind according to federal laws and heroin and cocaine are schedule 1 drugs.
Is CBD oil (or marijuana) as dangerous as heroin or cocaine? Of course not and most law enforcement officials wouldn't treat it as the same unless you were smuggling a lot of marijuana.
Now there are many states where marijuana and CBD oil is legal on a state level. These places it would be 100% safe to sell and use CBD oil.
There's also states where marijuana is decriminalized and used for medical issues (many states have CBD oil laws where medical patients can use). These places would be safer to sell and use but you could still get in trouble.
Other states, like Idaho, marijuana is completely illegal for all proposes. I would stay away from selling CBD oil in these places.
Here's a map that breaks down each state's laws.
If I had to guess, most states will eventually legalize marijuana for medical purposes and most likely decriminalize it (meaning it's not an arrestable offense to have a certain amount of marijuana).
It gets even more confusing if the CBD oil comes from hemp and you can check out the laws regarding Hemp CBD oil here.
I personally think you'd be fine in most states selling this stuff but you should know there's a few risks involved – especially when you factor in human error and judgement. You may come across a judge or a cop that are misinformed and you might have to get a lawyer or stuff like that.
Are The Products Quality? 
CBD oil is growing in popularity and you always see products like these explode in popularity. It's kind of like when super berries and avocado were huge. It's not like people just learned berries and avocado are good for you, it's just they get a lot of attention and marketing around them.
They get a huge boost in sales for a while until the next health trend comes along.
CBD oil might be a little different, though, considering the legality of Cannabis. People who were scared off by not wanting to break the law might be willing to try once it's made legal or is more widely accepted.
My gut is telling me CBD oil is going to have a pretty healthy run as a health trend and as more and more states begin to legalize recreational marijuana.
In terms of overall quality, the consensus in the CBD oil community is HempWorx oil is quality but overpriced. You can easily find the same or better quality at cheaper prices if you shop around.
So if you're really are passionate about CBD oil and want to sell it, you may want to find a distributor with better prices and better quality.
Final Verdict: There's Better Ways To Make Money
If you're looking for a way to make money from your home, there's better ways than HempWorx and MLM. Even if you really want to get into the CBD oil business you'd be better off just doing affiliate marketing and creating a blog around the topic.
It's much easier if you let another company handle all the customers and shipping – you just get money by referring customers to the CBD oil manufacturer.
In fact, affiliate marketing is how I make my money and I'm making more now than I ever did in previous jobs. I learned at Wealthy Affiliate which is the single best place for affiliate marketers. It has everything you need to succeed including various tools, training and a community of over 1 million people to help you.
See how it stacks up against HempWorx MLM:
So as you can see Wealthy Affiliate is the better program overall and can truly help you reach your goals of financial independence!