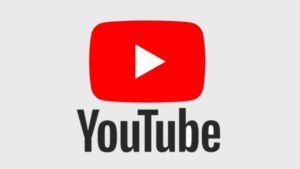 You have to get A LOT of views to make a full time income on Youtube if you monetize with ads.
There's other ways to make money on this website, however, and in this post I'll show you how to make money on Youtube without ads.
We're going to be looking at affiliate marketing with your videos and why it's a much superior option than ads. I'll also show you some more outside of the box ideas to make money on Youtube.
Ready?
Affiliate Marketing VS. Ad Monetization
Someone like PewDiePie can make millions a year off Youtube with ads. How does he do this? He has over 80 million subscribers and each of his videos get around 5,000,000 views each.
He also puts out a new video each day and overall he has 20 billions views on Youtube.
It's estimated that PewDiePie makes around 15 millions dollars a year.
There's plenty of other Youtubers that make millions a year off ads too. So it is definitely possible to make money off ads but it's hard. These Youtube content creators have spent years and years and years building their subscriber count. A lot of them work long hours and spend A LOT of money on editing.
So you can take that route if you want but it's going to be difficult.
I personally like affiliate marketing to make money on Youtube. First off you don't need a lot of views to make this work (you probably need 5% to 10% of the views you'd need if you went the ad route) and you can get results right away instead of having to build up subscribers for years too.
For instance, I wanted to test this out and I made 4 videos in total and they got around 22,000 views combined. If I just ran ads on these videos I would have made $55.
Instead I made videos that linked to my Amazon affiliate account. Guess how much I made?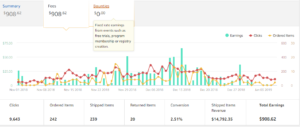 $900! This was only a two month period and each video only took 1 day to make. All in all these videos will make me around $2000 – not bad for 4 day's work!
As you can see there's more profitable and faster ways to make money on Youtube without ads.
The rest of this post is going to be dedicated to different strategies to make money on Youtube and I'll show you exactly how I made the money I did.
Best Of Video's Are MONEY MAKERS
Have you ever heard of the consumer buying process?
Basically there's a process most people go through when they make a purchase. First they acknowledge a problem in their lives, second they research how to fix the problem, then they learn about a type of product that solves the problem, next they research and compare the different products and finally they make a buying decision.
The best way to make money online is to get in at the end of the buying process when people are ready to make a decision.
Ideally you'd like to be the last step where people purchase but that's mainly reserved for retailers like Amazon, Best Buy, Walmart and other smaller places.
As an Affiliate marketer you come in right before the purchase (in the product research step).
Your job is to review and rank different products and tell people where to buy the product. You provide a link to the products (it's an affiliate link and the retailer you send a customer to will be able to track the traffic you send them) and you earn a commission.
Depending on the affiliate program you're apart of you can make anywhere from 5% to 75% commission per sale and make $5 to several hundred per sale.
In order to make these sales on Youtube you'll either have to create best of lists for a certain product (best smart watches 2019) or you'll have to review products individually.
I like the first option for a lot of reasons and the main one is you don't actually have to own the products while with an individual review you do.
You can make quality videos that get around having to show that you own the product (this is especially true when you're doing a top 10 list). It's kind of hard to not show that you own a product when it's an individual review. If you're reviewing products that are worth hundreds of dollars you'll need several thousands and even ten's of thousands to start out.
The best of strategy is the one I used to make $900 with just 4 videos. It's not that hard either to make a best of video either, even if you have zero experience (I had zero experience when I made those videos).
How To Make A Best Of Video
Before we get into niche selection and keyword research I just want to reassure you making videos is easier than it seems. Every time I tell people about making money on Youtube you can just see the doubt and excuses running in their brain.
Let me just be clear on a few things. If you follow my strategy you:
Don't have to show your face on camera
You won't have to spend a lot of money
And you don't need experience
Here's what you will need:
A decent mic (Most beginners go with the Blue Snowball or the Blue Yeti – those are what I started with and they cost $39 and $129, respectively).
A video editing software (I personally like to use Camtasia and it costs around $250 I believe)
A laptop (duh)
Some sort of picture snipping product (you can find them for free).
That's all you really need.
Basically you're just snipping stock photos of the products you're talking about, placing them in a video software where you can add effects and titles, and reading a script you prepared ahead of time.
With a little practice you'll be able to make videos that look like this in one day:
This person downloaded stock videos of the product instead of stock photos and you can do that in Camtasia as well.
You just have to play around with whatever video editor you purchase and watch tutorials.
Here's a couple good tutorials for Camtasia:
This is exactly how I learned how to use Camtasia – messing around with it and tutorials.
How To Choose A Profitable Niche
A niche is essentially a market that you're going to target. If you're going to tackle the best of strategy there's a few rules you have to follow:
The niche you pick has to have hundreds of best of options
You should make at least $5 per sale
It shouldn't be overly competitive
So if you're going to make best of videos you should pick a niche that is pretty broad – household products, outdoors, tech, auto, etc.
So if you were doing household products you would target best coffee makers, best tv speakers, best lawnmowers, and so on.
You can even go completely general. This strategy would never work if you were trying to get traffic from Google but Youtube is less competitive. You can rank for keywords in Youtube that you would have zero shot at ranking for in Google.
Here's a few examples of Youtube channels that are general:
Remember I made $900 on only 22,000 views – imagine what these channels are bringing in!
There's plenty more examples too. If you're going to go general you'll probably want to sign up to the Amazon Associates Program.
This program allows you to link to any product on Amazon and make a commission from it – it works perfectly if you have a broad niche or a general one. You only make between 4% to 8% per sale, though, so the products you focus on should be over $100.
Informational Videos
You can also do an information niche like health, beauty or something like that. You would provide tutorials and how to videos in a niche (home remedy for flu) and alert your viewer to an affiliate offer (maybe like an all natural tea or all natural dieting pill).
There's plenty of products on Clickbank that offer up to 75% commissions on sales that'll work perfect for this strategy.
Since people are looking for a specific product and are only interested in the general topic, it's going to be harder to convert this traffic to a sale.
If you do take this route make sure the affiliate program and product you choose are legit and have an excellent landing page.
If you want a good example, look at this video below:
This person ranks for the search term "how to loose weight fast."
If you actually go to this video in Youtube, You'll see this in the description: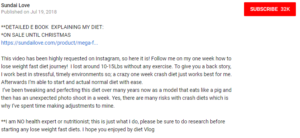 If you click on the link you get sent here.
There you'll find an E-Book for $7. This isn't an affiliate product and is a product the creator of the Youtube video made. It probably cost a couple hundred to make and it gets a ton of free traffic to it.
If you can successfully make informational videos that get views you can make a lot of money from selling affiliate products and selling your own products.
Make money online is a niche that's great for this.
A good example of this would be ODi Production's Youtube Channel.
This person created videos on making money with affiliate marketing and links his own course in the description (DON'T BUY THE COURSE – THERE'S BETTER OPTIONS).
The course is a hefty $997 and I'm sure makes a lot of money for the creator.
Keyword Selection
In order to make money on Youtube you're going to have to pick search terms that can make money – this is known as keywords.
If you're going to follow the best of strategy I recommended up top, all you're going to be doing is finding "best of's" that actually get traffic.
I personally like to use the keyword research tool at Wealthy Affiliate. Wealthy Affiliate is a community of nearly a million affiliate marketers and there's affiliate marketing training as well.
If you want a free option just use the keyword planner that Google provides.
Here's how you know you have a good "best of." Go to your keyword tool of choice and if it gets traffic with the current year in it, then you have a good keyword.
I use this keyword strategy to quickly build websites that get up to 5k profit in under 7 months. This is the strategy I use to get so many Youtube views so quickly too.
Here's an article that discusses the year strategy more in depth.
What's good when you target "best of's' with the year in them is you can rank in Google search too. Go type in "best basketball shoes 2019" into Google. You'll see they specifically put Youtube videos on page 1. This means you'll get traffic not only from Youtube but Google as well.
Choose the right keywords and your videos can get several hundred thousand views.
If you need ideas just go to Amazon or any popular retailer in your niche – these sites basically organize everything into keywords. For example if you're doing a tech channel, just go to Best Buy and look at their different departments.
In the audio section alone you'll see 30+ keywords like:
best over ear headphones
best wireless headphones
best gaming headsets
best home theater systems
best sound bars
best bookshelf speakers
best floor speakers
best boomboxes
best portable speakers
best smart speakers
and on and on and on. You can build a full time income if you make quality videos around these search terms.
Picking An Affiliate Marketing Program
There's a bunch of affiliate marketing programs you can join like:
There's also private affiliate programs too. If you were doing an outdoor channel you'd want to look into REI, Backcountry and EVO's affiliate program – they give you high commissions and you have plenty of high quality products to choose from.
If you're entering a niche like make money at home, you'll want to promote a few products. You can promote website hosting, keyword research tools, affiliate training and more.
One of the best affiliate programs in this niche is Wealthy Affiliate. This program is the single best affiliate marketing training and community on the internet and costs $50 per month to join. As an affiliate you would get half of that every month – each person you get to sign up could potentially make you thousands.
If you're doing "best of's" you'll want to choose Amazon or a private affiliate program in your niche (like REI for outdoors).
If you're doing information you have a lot more options. I just would pick one or two good affiliate programs if this is the path you choose – you don't want to be involved in like 20 different programs. It will be to difficult to keep track of everything.
Dropshipping/Selling Your Own Product
I personally think the "best of" strategy or creating an information channel on Youtube with affiliate links is the best strategy. It's easy and anyone (even a complete beginner) can do this.
However, there's other ways to make money on Youtube besides affiliate marketing.
You can create a channel and sell your own products or create a dropshipping store. This is a little more tricky but when done right can make you a lot of money.
One channel that does this is called DANKIUS V2. The person who made this channel is very smart and I'm guessing they have channels in many different niches. What they do is make compilation videos from Tik Tok.
Tik Tok is the next big social media app and it's HUGE in the 16 to 24 age range. At the time of me writing this, Dankius V2 has been around for a month and half and already has 14,000,000 views.
So how does this channel make money? They promote a store with clothes that people between 16 to 24 will want to buy.
About 25 seconds into the video (after they show a few funny clips to hook the watcher), they quickly show their store called Dank Apparel and the clothes you can get there.
Look at the traffic Dank Apparel gets to its store:

As you can see this store gets traffic of over a million per month and it's all free. I would only do something like this if you were experienced but it's definitely an option that can make a lot of money.
Youtube SEO For Better Rankings
Picking the right keywrods and making quality videos around those keywords is the single best thing you can do to get good rankings in Youtube (and in Google).
But there's a few tricks you can use to make sure your videos show up as high as possible.
First off, Youtube pays close attention to watch time and many people think this is the number one thing Youtube looks at. The reason is the longer people watch, the more ads Youtube can show (which is how Youtube makes its money).
Making videos people will want to watch is how you improve watch time. So make sure you have a good mic and your voice is easy to hear and make sure your video looks presentable.
You also want to make your videos as long as is appropriate. Certainly don't fluff things up because that'll make people click away but present as much useful information in your videos as possible.
Next, you need to pay attention to your title. In order to optimize your title correctly you have to put your keyword in the beginning (Youtube puts more weight on the front of your tittle in terms of ranking than it does the back).
So if you're doing a video around the keyword "lose stomach fat fast" you want your title to be "how to lose stomach fat fast (My secret method) and not "my secret method to lose stomach fat fast."
After that you'll want to give your video the proper tags. Again, if you're targeting the keyword "lose stomach fat fast" you'll want to pick the following tags:
lose stomach fat fast
lose stomach fat quickly
quickly lose stomach fast
how to lose stomach fat
how fast can I lose stomach fat
and a couple others like that. This just gives Youtube an idea of how to rank your video and which search terms to rank it under.
Lastly, you'll want to write a pretty lengthy description and use your keyword as soon as possible. This is another way to alert Youtube to what your video is about.
If you want a full video of Youtube SEO, make sure to watch this video below:
Brian Dean is an expert on SEO and you should definitely listen to everything he says.
There's A Lot Of Options On Youtube
There's so many great affiliate programs and products you can promote on Youtube, it would be foolish not to offer an affiliate product to your audience. This is true even if you're trying to monetize with ads.
Every major Youtuber does affiliate marketing or markets their own products. They provide links to their equipment through Amazon or sell their branded merch.
Relying on ads is a mistake. First off, you need 1,000 subscribers before you can even run ads and that can take a while when you're just starting out. Secondly, Youtube has in the past demonetized videos and there's not much you can do once Youtube demonizes your videos.
Also, people can copystrike your videos to take your ad revenue and people abuse this system. Many people watching Youtube videos have Adblocker as well.
It's just smart to have multiple streams of income and affiliate marketing and Youtube go perfectly together.
If you have any questions make sure to comment below and I'll answer you as quickly as possible.
Are you ready to start making money on Youtube?