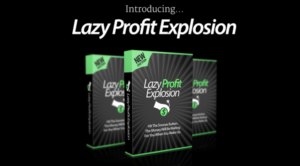 Product: Lazy Profit Explosion
Price: $16.95 and upsells
Rating: 40/100
Overview: There's a lot of opportunities on Youtube to make money (which Lazy Profit Explosion teaches) and it's perfect for affiliate markets. However, I would NOT recommend Lazy Profit Explosions if you you're serious about Youtube.
While it does go over some basics and is reasonably priced, you can find the same and better information elsewhere for free. In fact, I just wrote a guide detailing how to make money on Youtube and you can read it for free here.
If you really want to invest in affiliate marketing training and want to be apart of the best online marketing on the internet, I would suggest joining Wealthy Affiliate. That's where I learned how to earn a full time income online.
To read my Wealthy Affiliate review, click below:

---
What Model Does Profit Explosion Teach? 
Like I said in the overview up top I love affiliate marketing on Youtube. In fact, I made ONE video a couple months ago, which took me only one day to make, and it's already made me over $700 in affiliate sales: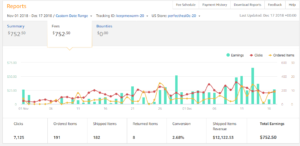 In the next year this video will make me a few thousand dollars – pretty good for a few hours of work (again read how I did it here).
I didn't make this money from following Lazy Profit Explosion, however. Their system actually doesn't really go into too much detail on how you'll make money but kind of just generally explains the process.
This isn't a good sign. When you buy a training program you should expect step by step details on how to implement the system. This course, however, just makes overhyped promises and doesn't really explain how it's done.
For instance, to make money on Youtube you either have to make money through ad revenue, running ads or affiliate marketing.
The first way, through ad revenue, is very difficult and you need a large audience to make this work for you. To figure out how much you'll make with ad revenue you divide the overall views by 1000 and times that number by three (you basically only make $3 for every 1000 views on Youtube).
So if you made a Youtube video everyday, Monday through Friday, and each video got 50,000 views, you're going to make $150 per video which comes out to $750 a week (or $3,000 a month).
This certainly isn't bad but you'll probably need hundreds of thousands of subscribers to get 50,000 views per video. That can and probably will take YEARS to do.
Affiliate marketing is a much better way to make money online but there's nothing "lazy" about the process. You're going to have to make videos every single day and it'll still take over a year to get $10,000 a month most likely.
Or you can run ads on Youtube (like Lazy Profit Explosion teaches), but you'll need a budget of thousands to make that work.
So while Youtube affiliate marketing is definitely a viable option to make money, Lazy Profit Explosion isn't the way.
The Price Isn't Bad But.. 
There's upsells.
If you don't know what an upsell is let me explain:
An upsell is when you're promised something in a sales video (make 10k a month on Youtube by buying this course) and you make the purchase. Because who doesn't want to get rich and be lazy?
But once you get into the course you quickly learn you don't have access to everything. There's "secret" information that you have to buy to really get good results.
Some courses sell upsells that costs thousands and I really despise those people. That's just playing with people's emotions and most people just end up losing money altogether.
This course's upsells are pretty reasonable and won't cost too much ($20 here, $20 there) but still. I just don't like that kind of stuff. Just be upfront with what's in the course and what the actual cost is.
What's Actually In The Course? 
Inside the course you'll find 4 different modules with 4 or 5 videos in each module.
Altogether the information comes out to about 45 minutes of video time.
Let me just ask you one question: Do you really think you can learn how to make 10k a month, with minimal effort, in just 45 minutes? Of course not.
If it was that easy every single person on earth would be doing it. Making 10k a month online, despite what gurus and scammers say, is not an easy task.
It not only takes work (at least 4 to 5 hours a day until you can outsource tasks) but it takes a lot of training. I have spent years online and I've spent A LOT of time reading about affiliate marketing techniques.
The beginner course at Wealthy Affiliate probably goes over 30 hours. Then there's an advanced course that's probably another 30 hours. And then there's a weekly training course that's an additional hour long each week.
I've gone through other courses that are 20 to 30 hours long too. My point is there's no amount of information you can learn in 45 minutes that will take you from $0 to $10,000 a month. It just doesn't exist anywhere online or offline.
Here's a break down of the modules:
Module 1
In module 1 you get 4 videos in total and it's an introduction into the system Lazy Profit Explosion teaches. You get information on how to pick a niche, build campaigns and target certain groups. This is good information but you can easily find it elsewhere by just googling or typing into Youtube "how to build an ad campaign in Youtube."
Youtube even gives away the information for free.
Module 2: 
This is another decent module and teaches you about Adwords and the different kind of ads you'll be trying to run.
Again, though, you can just Google "adwords and Youtube" or look it up on Youtube.
Here's a video that explains everything for free:
You certainly don't need advanced training for something like this.
The other video in this module explains the two different kinds of Youtube ads, in-line and display ads.
In-line ads are the ads that play before a video and display ads are ones you'll find underneath the video.
Again people make a lot of money running these kinds of ads – some people make millions. I'm not criticizing this money making method, I'm just criticizing the training methods.
This video does a good job explaining the very basics of what each ad is but isn't nearly enough for you to run an ad effectively.
Module 3:
Tracking your campaign is important and there's vital analytics you need to know in order to be successful. Most of your campaigns are going to fail and that's perfectly fine. When you find a winning campaign it will easily make you more money than you lost on your losing campaign.
For instance, you may spend $500 testing 10 different ads. If 9 all lose you money and the 10th makes you $10,000, losing money on the first 9 is perfectly fine. Ads are a game of testing.
This module explains which numbers to pay attention too and how to accurately figure out which campaigns are winners and which are losers.
Again, valuable information but Youtube gives you this training for free. Check it out here.
Module 4: 
This module goes over additional analysis and scaling.
Like I said before most of your ads are going to fail – this is something that's true for even the most seasoned internet marketers.
The way you make money is scaling winning ads and cutting out losing ads. You scale by adding more money into the campaign to reach more people and retargeting/remarketing certain people.
Your data could show you a certain group of people who liked your offer (clicked on it, watched it all the way through). You can retarget this group and maybe add a sweetener (10 dollars off) to make the sale.
Another effective method is creating a custom affinity audience. If you've ever run Facebook Ad's custom affinity audience it's basically the same as a look a like audience on Facebook.
Basically it's people that you didn't originally target but have shown interest in products similar to the one you're offering. So if you advertise a weight loss product, you can market it to people that already have interacted with weight loss ads in the past.
This is probably the most important module of them all but you can find this information for free elsewhere.
This Course Is NOT For Beginners
If you're new to making money online, it may sound like I'm speaking a new language.
Words like niche, retargeting, custom affinity audience, CTR, and other internet marketing terms mean nothing to you.
The only people who would find any value in this course is experienced marketers who maybe haven't gotten involved in Youtube yet and want a very basic primer on running ads on this platform.
Sometimes it's easier to just pay the $17 for a course like this one than to try and get all the information for free.
This course is useless if you're new to internet marketing, though. You need a beginner friendly course that'll teach you all the terms and how making money online works.
It Costs Money To Run Ads
One thing you need to consider before getting into Adwords is you actually have to spend money on showing the ads.
If you're brand new to affiliate marketing and internet marketing in general, you'll likely need at least $1000 for this to work.
You're going to mess up a little in the beginning and it takes some money to figure out which ads will work.
So if you're on a tight budget this money making system is not going to work for you. The good news is you can easily get free traffic on Youtube and don't have to purchase ads.
It's always better for beginners to learn how to drive free traffic anyway.
My Conclusions: There's Better Courses Than Lazy Profit Explosion
There's straight up scam courses on the internet about making money online. Some courses pay actors to fake testimonials and others will literally teach you bad information and not give you a refund.
Lazy Profit Explosion isn't a scam. There's nothing really unethical in this course and there's some useful information. I don't like the upsells but it's a pretty common practice in the affiliate marketing world – at least the upsells won't bankrupt you.
But there's just not enough here for me to recommend it. You either are a beginner and it won't give you what you need to be successful or you're a seasoned internet marketer and you already know all the information in this course already. Or you could probably find the same information for free
If you're dead set on making a full time living online, like I do, you need proper training, mentors and a community to ask questions to. You'll get all that and much more if you sign up for Wealthy Affiliate (first 7 days are free as well).
See how it stacks up against Lazy Profit Explosion:
As you can see Wealthy Affiliate is far more superior.
If you have any questions about what you read in this review make sure to comment below and I'll answer you as quickly as possible!
Good luck on your journey online!