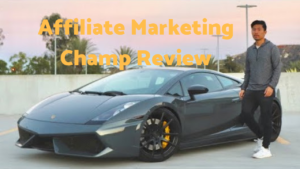 Course: Affiliate Marketing Champ Course
Overall Rating: 5/10
Price: $997
Overview: Do I think Odi's Affiliate Marketing Champ course is a scam? No. It is WAY overpriced, however. There's many courses that provide a ton more value and are much cheaper.
In fact, my top choice (Wealthy Affiliate) gives you a thousand times more value and costs a fraction (at Wealthy Affiliate you get 2 different training courses with over 100 videos, a community of 800,000 affiliate marketers, a WordPress sitebuilder, support, hosting, live chat, mentorship, weekly training, domain service, keyword tool, and more).
There is some good training in Affiliate Marketing Champ and the mentorship program isn't bad but you can for sure get the same info and training for way less.
---
Who Is Odi Productions? 
Before we get into the course its self, we should look at Odi and his Youtube channel.
Odi is clearly a successful person and he likes to show off his apartment views and $300,000 cars. I don't think there's anything wrong with this.
He's trying to sell a lifestyle along with his course. The only problem is to a beginner this can be pretty misleading. I talk to beginners all the time and they kind of get seduced by the type of content Odi puts up.
They see titles like "$0 to $30,000 a month (EASY)." Eventually affiliate marketing gets pretty easy once you get a system down and if you know how to outsource you can work as little as 5 to 10 hours a week.
You have to learn affiliate and internet marketing the same way a person learns accounting or finance. There's a lot to go through and you're going to have to experiment before you start making money.
97% of affiliate marketers don't make it. That isn't because affiliate marketing is too hard or anything like that. People just give up too early.
When they see titles like "$30,000 a month EASY" they think they'll put in a little effort and boom.. living the high life.
Most people won't experience this. It took me two years just to make a full time income from affiliate marketing and that's more typical.
If I could describe Odi in general terms it would be this – Hype Man. He's successful because of his personality, intelligence and his ability to sell a belief/lifestyle.
Does that make for the best teachers? Not really and when you look at the content in his course you see it's pretty basic (once you strip away the hype).
What's In The Course?
The reason I say the course info isn't all that special is because you can find the same training and more while paying $800 less.
Here's a list of the modules in the Affiliate Marketing Champ Course:
WHAT Affiliate Marketing is and WHY it's the BEST Online Business Today!
The BEST EXAMPLES of SUCCESSFUL Affiliate Marketing in the Real World.
STEP BY STEP PLAN on How to Start a Successful Affiliate Marketing Business
The MOST PROFITABLE NICHES in Affiliate Marketing REVEALED! (Game-changer)
How to RANK on the FIRST PAGE of YouTube AND Google *TOP SECRET* (Worth the price of the course alone)
A SECRET Paid Traffic Source that will TURBOCHARGE Your Results (for little $ too)
How to CREATE an Affiliate Marketing WEBSITE from Scratch in 1 Hour (Sooo easy)
How to Create a FACEBOOK AD for Affiliate Marketing
How to Use CLICKFUNNELS, the #1 Tool for Affiliate Marketers
EMAIL MARKETING 101 – STEP by STEP Setup and Templates!
My TOP 5 MISTAKES with Affiliate Marketing (Wish I knew when I got started)
You can see the hype everywhere. *TOP SECRET* *REVEALED* *GAME CHANGER** *SOOO EASY**
These aren't things you want to see in a legitimate course. These might be headlines you use when you're trying to sell something but inside the course?…
At the end of the day you can find all this information for free on Youtube. What is affiliate marketing? Just Google it and you'll get an answer. How do you find a niche? Again just Google it and you'll find out.
Need to know how to use Click Funnels? You can find a course for probably $19 that gives you the same training.
Even modules like how to create an affiliate marketing website are something you EASILY find for free on Youtube. In Wealthy Affiliate you can build a website in 30 seconds – not 1 hour like in this course.
And there's nothing TOP SECRET about ranking in Google and Youtube. You target keywords you can actually rank for, you create quality content around that keyword and that's pretty much it.
You can build backlinks (not really sure how helpful they are anymore and I don't focus on backlinks and do just fine) and there's a few on page SEO tricks you can use.
But there really isn't any TOP SECRET tips to rank in Google.
What Do I Like About This Course?
Real Life Examples: 
I'm not really impressed by the training because I think you can get the same information for much cheaper and even free.
However, there's a few things I do like here. The first is Odi goes over actual real life examples of successful affiliate marketing.
Studying successful affiliate websites was one of the things that helped me become a success online. I must have looked at 1000 different websites and examined every nook and cranny of each one.
I began to implement the different keyword strategies into my own affiliate websites and things started taking off.
Again, though, you can do this on your own and don't need to spend $997 to see successful websites – just google the competitors in your niche and see what they're doing.
Mentorship and Community:
Another aspect I like is there's a mentorship program and a private Facebook group. Being around like minded people and having those who are already successful give you advice is important to success.
You could just as easily join Stack That Money or Wealthy Affiliate if you want to make connections, though. These two places have a better community then you'll find in the Affiliate Marketing Champ Course.
Youtube Training: 
I am a BIG believer in Youtube and what it can do for affiliate marketers. Youtube is the second biggest search engine at the moment and one day it could even take over Google as the biggest search engine – like TV eventually took over radio.
At this point every affiliate training course should come with Youtube training. It's too big of an opportunity to miss out on.
I like that Odi has Youtube training in his course and stresses it as important. Also, you can see Odi knows what he's talking about – he has over 28,000,000 views on Youtube and over 100,000 subscribers.
Those are good numbers and most affiliate marketers would love to have them.
Again, though, you can find Youtube information else where. I have a lot of guides on this website you can read for free that go very in depth into affiliate marketing on Youtube.
Who's The Course For?
STAY AWAY IF YOU'RE A BEGINNER!!
You don't need to pay nearly $1000 to learn the information that's in this course. I know you want to fly around in private planes and drive Lamborghini's but start somewhere else for cheaper.
Like I said, I think there's much better courses.
The only person who I think should buy the Affiliate Marketing Champ Course are people who want to build a personal relationship with Odi. That's about it.
Odi is a very successful person and if you watch his videos on Youtube it's pretty obvious he has some connections – he regularly interviews millionaires and other high earners. He has some serious connections and if you buy the course there's a chance you could get him to connect you with successes in your niche.
So if you're already making money and you want to take it to the next level by building relationships in the affiliate marketing world and the world of your niche, the Affiliate Marketing Champ Course could work for you.
Just don't expect too much from the training – if you're already making some money you probably know most of what he recommends.
The Bottom Line: Affiliate Marketing Champ Course Is OVERPRICED
ODi seems like a pretty good guy and his Youtube channel is a lot of fun – he's got fast cars, he interviews successful people and he's just a high energy person.
He's definitely someone you'll want to follow on Youtube.
Do I think you should buys his course, though? No – unless you're trying to make connections in the affiliate world. And even if that's the case you should wait until you have knowledge about affiliate marketing before making the plunge.
You can make connections other places too. I've mentioned Wealthy Affiliate a few times and it's by far the best affiliate marketing training/program on earth. You get a community of affiliate marketers that you can connect with and plenty of six figure marketers you can get advice from
At Wealthy Affiliate you also get web hosting, website builder, keyword research tool, support and more. Check out this chart for a comparison of the two courses:
As you can see Wealthy Affiliate is much more valuable and is much more affordable – it's also free to start. If you're looking for a new affiliate marketing course and a new community to join, Wealthy Affiliate is much more deserving of your money.