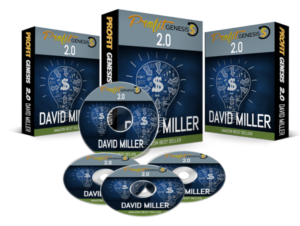 Product: Profit Genesis 2.0
Price: $37 and upsells
Rating: 0/100
Overview: Don't buy this course.. Seriously.
Profit Genesis 2 makes outrageous claims like you can make $20,000 a month only working 15 minutes and pays actors to do "testimonials" to try and prove their claims (I'll prove this later on).
There's many ways to make money online and it is definitely possible to reach $20,000 a month – there's a lot of people that do it. I doubt there's a single person who's gone through Profit Genesis, implemented the training and is making anywhere close to that, however.
If you want to make real money online, I suggest you look into the best affiliate training course Wealthy Affiliate. Wealthy Affiliate is a million times better and there's a ton of real value in that community.
If you want to read my full review of WA, click below:

---
What Does Profit Genesis 2 Teach?
There's many different ways you can make money online – affiliate marketing, email marketing, MLM, CPA and more.
Profit Genesis 2 focuses on dropshipping. Dropshipping is really taking off lately and you can make a Shopify eCommerce store for really cheap.
So dropshipping and eCommerce is certainly a viable business model but the training you get in Profit Genesis 2 will not be enough to make it.
eCommerce is a crowded field and you're going to be competing against some talented internet marketers – people that have been in the game for a long time and have large budgets to market.
You're not going to beat them with the knowledge you get from Profit Genesis 2. You need to find a better course from someone more proven.
But What About The Testimonials? 
The reason this course gets a 0/100 is because of the testimonials – they're fake.
Look below: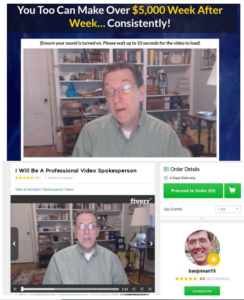 Benjamin.. at least change your shirt!
Here's the actual testimony in the promo video:
This is a common trick of scam products like this. They don't actually have successful students so they have to pay actors to pretend they're successful.
This is so wrong and is the only thing you need to know about Profit Genesis 2. If they're willing to try and trick you like this, do you really think you'll be getting good information? Do you think what they teach will really get you $20,000 a month? Do you really think what they teach is even moral?
Of course not.
Other Crazy Claims
A while back Tim Ferriss came out with a book called The 4 Hour Work Week. I read it a few years back and really loved it. Tim is a smart guy and he has some really good tips in that book.
The problem, though? There's a lot of people who expect to make loads of money in only a few minutes a day now. This is completely unrealistic.
I'm at the point where I make a full time living working only about 20 to 25 hours a week. I've begun outsourcing and there's probably a day I will eventually get it down to 5 to 10 hours a week.
It's taken YEARS to get to this point, though. You don't just just waltz into dropshipping or any other business model and only work a few hours a week – Tim Ferriss will concede this.
Profit Genesis 2 preys on people who are naive and who believe you can work minimal hours and still make tons of money. This course claims you can set up your dropshipping store in 15 minutes and then it'll make money without you doing any work.
That is such a ridiculous and outrageous claim and so dishonest. If you're a beginner to making money online I promise you any course that says something like this is lying to you.
Also, Profit Genesis 2 claims you'll be making thousands in your first month. If they've lied so much so far, why would they be telling the truth now?
The fastest I've ever gotten a business over 5k a month was in 7 months. Before that the fastest I've gotten a website to 2k a month was in 6 months. These things take time and you can't expect results over night.
No Free Trial
One of the biggest red flags with make money online training courses is when you can't get a look inside and see what you're getting.
I've found when this happens, the owner is usually trying to hide something and knows if you actually get to test out the course you'll never buy it.
Which brings me to another point – the owner doesn't make an appearance!
This is a major red flag too. The reason the owner doesn't do this is because he most likely makes these types of courses all the time. If his face was connected to such a low quality training program he would never be able to sell a course in the future.
People would just look at him and say "oh wait, I know that guy! He's a scam artist!" If someone is too ashamed to attach their face to their product, you should avoid that product.
Lastly, the sales video doesn't even let you know what you'll be doing to make money. Again, this is all aimed to attract beginners and naive people.
An experienced marketer can see a scam like this from a mile a way. It has all the tell tale signs. But a beginner hears you can make hundreds of thousands a year without much work and they're more inclined to fall for it.
By not actually talking about how you'll be making money, it denies a person the opportunity to research further. You basically have to take a leap of faith that what's inside is legit after you spend money on it.
At Least There's A Refund
If there's one saving grace to this program it's that you get a full 60 day refund if you're not satisfied with the product (you won't be).
The only reason they do this is because it's required by Clickbank.
If Clickbank didn't require a money back guarantee I can assure you Profit Genesis would not offer one. And if they did it would not be for 60 days and it would be probably very hard to get.
So if you're not scared away from this product and want to give it try, you can do that and get your money back.
My Final Diagnosis: Stay Away From Profit Genesis 2.0
We all want to make a lot of money and we all want to make a lot of money without having to work hard or long hours. Is it possible? It is and I know people that do it – you just have to get good at outsourcing.
Profit Gensis 2.0 is not the way, though. This product is a scam, through and through. Just look at the techniques they use to get you to buy it:
Fake testimonials
No free trail
Owner never shows his face
Outrageous claims
This course is a dime a dozen and uses textbook scam techniques. You will not make a lot of money with this course and you should just save your money.
There's is good news, however, and there are PLENTY of ways to make money online. For instance I have several websites making me thousands a month and have sold other websites for up to $40,000 (it only took 7 months of work).
So it is definitely possible to make it happen. You need to have the right training, mentors and community, though, or you're doomed for failure.
If you want the best training (where I learned and flourished) you need to check out Wealthy Affiliate. Here's how it stacks up against Profit Genesis 2.0:
So if you're really interested in making money online, check out my review on Wealthy Affiliate – you'll be glad you did!