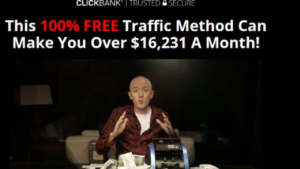 Product: Profit Injector Review
Price: $47 and upsells
Rating: 60/100
Overview: Usually when I buy a course to review my standards are low – there's so many scams out there. But I was pleasantly surprised with Profit Injector and thought the information inside was pretty legit.
Basically this course helps you find Youtube videos/niches that get a lot of views but aren't properly monetized or aren't monetized at all. You even get a tool that helps you find channels and videos that have the potential to be profitable.
You contact the owners and come to some agreement so your affiliate offer shows up in the description box and you get traffic this way. I've thought about doing this in the past and I was happy to see someone actually put an entire course out about.
Still it's not the best way to make money online and I wouldn't recommend it to beginners (not enough information on affiliate marketing and making a website). If you want to see what my favorite internet marketing training, click below:

---
Who Is Jamie Lewis?
Jamie Lewis is the creator of Profit Injector and he's a pretty well known internet marketer. He's been around for a long time and he's a multi millionaire.
Jamie a bit of a character and is definitely charming. You can tell he has a lot of fun doing what he's doing and doesn't take his work too seriously, which is refreshing.
He's also a straight shooter and is someone that just tells it like it is.
Here's a video that he created in 2013 that goes over his philosophy of making money online:
Here's a link to Jamie's Youtube channel if you want to watch more.
So Jamie is a legit marketer and is not afraid to put his face to his work. Some people lie about their course and create alter egos because they're scammers – here's an example.
The fact Jamie is very upfront about who he is is refreshing. Go through his Youtube channel and you'll see he's not shy about who he is.
What Does Profit Injector Teach? 
Profit Injector teaches a away of generating traffic that's very unique and is definitely outside the box. Basically you'll be getting traffic from Youtube but you won't be making Youtube videos.
Usually when I hear claims like that I tend to be skeptical but the method Jamie teaches is sound. Instead of making videos you're going to be reaching out to channels and video producers that are already getting views but not monetizing.
Your goals is to advertise your affiliate offer on these videos or in the description area. Jamie goes over everything from finding channels, to what kind of messages you should send, building relationships and more.
I'm going to go over each section of the course more in depth now.
Module 1: Introduction
The first video just quickly goes over the system and what you're going to do to make money. It's only a few minutes long and does a decent job at giving you an overview.
Module 2: Youtube Software Tutorial 
One of the most unique and interesting features of this training is you get a Youtube video finder. Jaime had his researchers find 125 profitable and popular niche and keyword ideas.
If you click on one you'll get video ideas and the contact information of the videos. This will save you time and makes finding the right videos to monetize much easier.
Jamie points out Profit Injector will be evolving and eventually you'll be able to type your own keywords in to find videos in all niches.
Module 3: Keyword Tool and Keyword Scraper
This section is just a keyword tool and a Youtube scraper that generates tags and keywords.
Module 3 is where I ran into my first issue, though. For some reason when I type a keyword in the keyword tool, nothing came up. It just loads for a second and then the page refreshes without actually doing anything.
This isn't the biggest deal in the world because I know how to find keywords but might be an issue for someone that doesn't.
The keyword scraper works fine, however, and is a tool that's pretty cool. Basically you enter any Youtube video and this tool suggests different tags and keywords. This can help you find a good niche to market with.
Module 4: Launch Box
This section comes with one video and a bunch of stuff to download. This is where you learn what to say when reaching out to a video creator on Youtube.
Jamie correctly warns you can't just ask for the person to do you a favor. That's not how the world works. You have to offer the video creator something first and you'll get what you want in return.
Basically you just ask the person if they're interested in doing a joint venture together and you let them know there's potential for them to make good money from doing so.
There's also around 75 things for you to download and look at. These are just resources to give you a better idea of what a campaign looks like.
Module 5: Youtube Bible 
I don't know if Youtube Bible was the right name for this section but this module has some value. You basically get a little PDF that gives some tips on how to be successful on Youtube.
In all there's only 3 pages and most of the content is in bullet form. This is good for people that are experienced and just need a nudge in the right direction.
There's really no explanation when Jaime makes a point and is more of just quick tips to set you straight.
Module 6: Videos
This is probably the most important section of all and here you'll find step by step instructions on how the entire system works.
You get training from both Jaime and one his students, Matthew Sabla. In total there are 13 pretty short videos (most are like 5 minutes long).
As far as training goes, it's pretty brief and doesn't go too far into details. If you're an absolute beginner this could be a problem but if you're an experienced internet marketer it may not be that big of an issue.
Module 7: Swipes
Swipes are messages you send to potential video creators about starting a joint venture. There's not really much in this section and there's only two messages examples.
The first states:
Hey so & so! Lets do a joint venture in 2019! Your channel & my monetization = possible
millions of dollars!
2019 is going to be our year! Let's work together. Your videos + my products and we have a 5
figure income stream daily don't you think?
The second states:
"hey"
Hi [NAME] Im looking to work with you on your channel. I can send you money via paypal right
away when sales come in. (I'll help you make sure you make sales too)
We should do a JV together! Want to?
They're pretty basic messages and you probably could have thought of them on your own.
Module 8: Acquisition Letter
If you really like the videos a channel makes and have some cash to spend, you can buy the rights to the channel and videos.
This section gives you a letter template to follow if you decide to take this route.
Module 9: Live Webinar Training
One thing I like about Jaime is he genuinely seems to care about his students and he does a ton of live webinars to teach you more information.
He does one every week and you can sign up for them in advance in this section.
Module 10: External Sources
This section Jamie just lists the sources he uses in everyday life and ones that you'll probably want to use.
What I Don't Like
There's a few things I don't like in this course, even though I like a good part of it.
First off, there's not a lot of training in this series. If you're new to affiliate marketing you are going to need supplemental training to know what is going on.
Also, you're going to need to learn how to start a website, sign up for affiliate programs, make a landing page and do all this stuff. You can find this information for free online but it would have been nice to have seen training for it.
Profit Injector Is Good But Not The Best
Getting the right kind of traffic to your affiliate offer is the single most important aspect to making money online – those who do it well can make millions and those who can't make nothing. It's that simple.
Profit Injector teaches you a creative way to get traffic and is definitely a viable traffic source method. I see videos all the time that advertise for other companies and market other people's products or affiliate links.
Youtube is also a growing search engine and is now the second biggest in the world!
There's some flaws, though, and mainly I think there isn't enough training. Really there's only 12 that go over the system and they're pretty short.
If you want the hands down best affiliate marketing training and want to make money the way I do, make sure to check out Wealthy Affiliate. Here's how it compares to Project Injector:
As you can see Wealthy Affiliate is definitely worth checking out.