Company: Traffic Ivy
Price: $ 31 and upsells
Rating: 40/100
Overview: While the idea behind Traffic Ivy is certainly interesting, I wouldn't recommend this software for people looking to increase traffic to their sites. The reason is I don't think the traffic you would receive would be that quality and I don't think it would help you make more money.
In order to make real money you need high quality traffic. If you want to learn how to generate free traffic and make a full time income online like I do, you should check out Wealthy Affiliate. This is the number one training and community for internet marketers and is free to try. If you want to read my Wealthy Affiliate Review, click below:

---
How Does Traffic Ivy Work?
Traffic Ivy is a community where people link their social media accounts and websites into the community. Essentially you buy points and use those points to pay people to post your content to their social media accounts/websites.
Let's say you run a dog website and want to get traffic to your site or affiliate link using Traffic Ivy. You would create a post with links to your site or affiliate offer and post it to the marketplace.
You would put your article in the marketplace, set how much a person can earn by sharing (this is based on points, not actual dollars) and eventually if someone wants to post your article they will select and earn the traffic points you are offering.
This is a pretty interesting idea and I think it could actually work if Traffic Ivy was more selective on who is allowed into the community. While you do get a score based on the articles you post and the traffic you send, you really don't know how legit the traffic you're receiving is or if the article you're posting is duplicate and may get you in trouble with search engines.
I just highly doubt you'll be getting quality traffic from any of the members in this community. If you really want access to another person's traffic, you're better off doing a guest post or buying solo ads to their email list.
Here's a video that goes over Traffic Ivy more in depth too:
Is The Price Fair? 
I actually think the price is fair. You can get access to Traffic Ivy for only $10 or $30 (depends on how many traffic points you want to start out with).
$10 gives you 2000 traffic points and the average cost to post an article seems to be between 20 to 50 points. So 2000 should give you an idea if Traffic Ivy is going to work for you or not.
You will eventually need to buy more traffic points once you're out (or earn traffic points by posting content and sending traffic to people's websites), so if you're not careful it may cost you a lot going forward.
Like basically every internet marketing course there's also an upsell after you make your purchase. You get sent to a second page where the owner tries to talk you into Traffic Ivy Pro and this can cost anywhere from $20 to $50 a month or $200 to $400 a year.
Those prices are very high and you can become a member at Wealthy Affiliate (which gives about 10 times the value) for less.
So definitely stay away from the upsells.
What's Inside The Course? 
Once you sign into Traffic Ivy, this is what you see: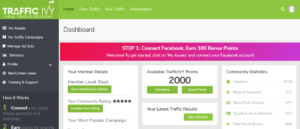 It's actually a pretty nice design and it's pretty user friendly. At really no point did I feel confused or didn't know where to click.
There is some loading issues, however, and it can take a while for the page to load when you click it. It's not the biggest deal in the world but can be a little frustrating.
But as far as how it looks and how easy it is to use, I would give it an A-.
My Assets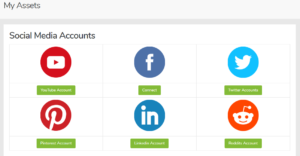 In this section you upload your various social media accounts and Wordpess websites. This is only necessary if you plan on posting other people's content to earn traffic points for yourself without having to purchase traffic points.
You should only upload accounts or websites that actually have a following, though. If you send no traffic to people after you post their content or send very little traffic, you'll end up getting a bad community score. People won't let you share their content if this happens and you'll have a hard time earning points.
My Traffic Campaigns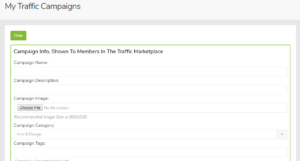 Next we have the My Traffic Campaigns section and this is where you actually post the content you wish others to put on their website/social media.
You select a campaign name, a header picture, tags and so on.
After you have that all figured out you hit the the next button and that brings you here: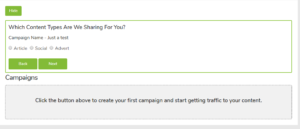 This is where you select what kind of post you'll be creating. When you hit the next button you get sent to where you'll create your content. If you are familiar with WordPress it's exactly like that.
You'll want to place your affiliate links and links to your website here. If you don't, you won't fet any traffic to your affiliate offer or site.
After, you set the amount of points someone can earn if they post your content.
Again, this is all easy to use and my criticisms of Traffic Ivy isn't based on the design or idea – I think they're both good. It's just the quality of traffic and the quality of the people posting your content that aren't good.
The Marketplace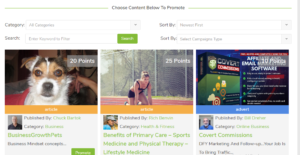 Finding content to post on your site/social media accounts is pretty easy too. Up top is the current posts that you can post and there's much more you can select from.
Again, as far as Traffic Ivy is concerned this is a nice layout and makes life pretty easy. Your website and social media is connected in the Traffic Ivy software so all you have to do is hit the publish button and it goes right to your website.
My problem here is the posts are pretty low quality and really isn't anything you'll want to have on your website. It might actually hurt you by putting this type of content on your site. Your readers and people on your email list may not appreciate the content and think less of you for promoting it.
The better strategy would be to purchase solo ads if you want your content in front of people or to offer your email list to people looking for solo ads. The quality will be much better if you do this.
What I Like About This Course
Overall, the design is nice and it feels like the person who put it together really considered usability. There's nothing clunky or confusing about the layout.
You can easily choose articles to promote and you can easily create posts for other people to promote. All your accounts are linked to Traffic Ivy and you won't have to do any unnecessary steps to promote content.
Also, the price is reasonable (as long as you don't fall for the expensive upsell) and because it's sold on Clickbank, you get a 60 day money back guarantee. I've gotten my money back from Clickbank in the past and it's a really painless process – there's basically no questions asked.
What I Don't Like About This Course
Besides the layout and easy to use website, there's not much else I like about this course. At the end of the day you need the right kind of traffic to make money online. You need more than just tire kickers and you need people that are ready to buy or will be down the road.
You're not going to get that type of traffic from Traffic Ivy. The people who sign up for this course aren't going to have large traffic producing websites or large social media accounts. And if it does look like they have large audiences, it could be fake traffic.
The quality of this traffic is just low quality and a lot of times is probably non-existent.
My Final Verdict: Good Idea But Not Worth It
If you can find a website like this that has quality traffic and has websites that are more well known, then I say go for it. But you're not going to get quality traffic at Traffic Ivy.
You're most likely going to be spending money and not seeing any results. And if you're looking to post content on your site, you won't be finding high quality posts here. A lot of it is poorly written and I suspect there's a lot of duplicate content here.
If you are looking to start an online business or looking for a way to generate more traffic, you should definitely consider Wealthy Affiliate. This is where I learned to get free traffic and make websites that have sold for $40,000.
Look how Wealthy Affiliate stacks up against Traffic Ivy:
As you can see if you really want to succeed Wealthy Affiliate is a much better place to join.