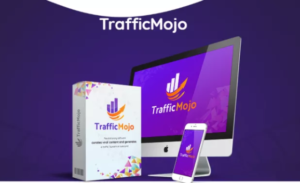 Product: Traffic Mojo
Price: $27 and many upsells
Rating: 40/1000
Overview: Traffic Mojo is a software that generates memes/viral content for you. Basically you type a keyword into a tool and it generates the most viral pictures on a particular social media platform (Instagram, Twitter, Pinterest, etc.) around that keyword.
This sounds like a good idea in theory but there's some flaws that I'll expand on later in the post. Overall I'm not really impressed with what this program does and you can find free places around the internet to do the same thing. I doubt a program like this is going to drive any significant traffic to your site unless you already have a HUGE social media following already.
If you are interested in learning how to drive real traffic to your site and want to check out the best affiliate marketing training on the internet, make sure to check out my review on Wealthy Affiliate. This is where I learned to earn a full time income online and where I learned to drive thousands of people to my sites per day.
To read my review, click below:

---
What Is Inside Traffic Mojo
Every time I see a course with the word "traffic" in it I expect one thing – to learn a new or tried and true ways to drive potential customers to my website.
I'm usually disappointed, though. Many trainings don't actually teach getting traffic but how to maximize the traffic you already have. That's a useful skill to have but it's not nearly as useful as knowing how to get new traffic.
Unfortunately, Traffic Mojo doesn't really teach you how to get new traffic or grow your social media presence. Basically this software will only work if you already have a large social media following.
This software finds viral pictures in certain niches and helps you create a meme to share to your social media audience. Then, according to the makers of the program, you increase your chances of going viral.
But if you don't already have a sizable social media following, chances are you are not going viral and this software is worthless.
I'll go more in depth into this program after I talk about the price.
Is The Price Fair For What You're Getting? 
I'd say it is.
Traffic Mojo only costs $27 and you get a 30 day, no questions asked money back guarantee. So even if you have zero use for it you won't be out a lot of money or you can get your money back.
However, there's a caveat to this. Traffic Mojo, just like basically every other training course or software online, comes with upsells.
After you make the purchase you get directly sent to another sales page. At this sales page you're offered another course and this one they say has a $1000 value but you can get it for $37.
Do you really think you can get something that's worth $1000 for $37? Of course not. There's other upsells as well and you can end up spending several hundred if you buy them all.
So be careful not to fall for the sales tricks and end up spending way more than you want to.
Dashboard
I'm going over each section inside the software now.
This is what it looks like when you're at the Dashboard:
It kind of reminds me of the Google Adwords dashboard and it allows you to track your results/clicks. I like this feature and you get to see how effective your campaigns are.
You do get this weird demo video of how Traffic Mojo works in the Dashboard section too:
The reason I think it's so weird is there's no sound or audio. It would have been nice if the person making the video could have talked through what he was doing. I just find it very odd they wouldn't have done that.
Explore
The Explore section is probably the most important part of this software. This is where you type in your keyword to find different images.
You can search in 5 different social media sites including Instagram, Twitter, Pinterest, Imgur and Giphy.
For instance I typed in camping and I got a link to this video on Twitter:
This is my kind of camping ⛺️ ? ? ???https://t.co/rTAX9boCOV pic.twitter.com/7RLCHg9WjW

— ❄️ Life on Earth ❄️ (@planetepics) January 17, 2019
This video has over a hundred retweets and over 800 likes.
One thing I noticed is, however, most of the most "viral" results in Traffic Mojo just come from social media accounts that have HUGE social media followings.
So it's not so much that these videos/pics are viral, they just happen to be put in front of social media audiences in the millions.
Design
The design section is where you upload your newly found viral photos and where you add your own text to make a meme.
I'm not 100% sure what the copyright laws are on something like this, though. I don't know if you could get in trouble for taking people's photos. Let's just assume it's perfectly legal, though.
The design section is pretty lame. Basically all you can do is add plain text and add a quotation symbol. There's MUCH better free options available online.
For example, Canva allows you to make pictures and memes that are far superior. It's completely free. So even if you want Traffic Mojo to track clicks or something like that, use Canva to make the memes.
Media
Media is just where you upload your photos.
Campaigns
This section is divided into two sections – My campaigns and new campaign.
The first section just keeps track of all your campaigns so you can go back and visit them. The second one is where you create new campaigns and place your affiliate link/link to your website into the image
Schedule
This is a section that I like. It allows you to schedule when your memes and photos go out to your social media profiles – you can link your Twitter, Instagram, Pinterest, etc.
This can make your life a little easier and takes away some stress if you plan on hitting social media hard.
Social Profiles
This is where you link up your social media profiles.
Bonuses
This is where you get your "thousands of dollars of free bonuses." There's absolutely no way the bonuses are worth that much and if they were you wouldn't be getting them for free.
The thing is you don't need to buy this course to get the free bonuses.
For instance you can get the Video Curator software by just going to the address below:
http://www.vidcuratorfx.com/getfree/
Here's the address to each of the free "bonuses:"
Social traffic machine:
http://imlaunchmanager.com/Venkata_Ramana's_sb/
Triangle traffic:
https://covertcommissions.com/packs/realspecific/?aid=1&tid=covertcommissions.com
Affiliate Ninja Pro:
https://www.affiliateninjapro.com/signup
9 Free Plugins:
https://claimnow.leadpages.co/free-9-plugins-bonus-detailed/
Traffic Strategy Pack:
http://barbaraling.com/gifts/trafficsc1/trafficsc1gift.html
So don't waste your money if you want to get the free bonuses.
Training
There's no actual training. When you click the training you get sent to Freshedsk where you get to sign up free for 21 days and then you have to pay monthly for the service.
Not really sure what this is all about if we're being honest.
You Won't See Much More Traffic With Traffic Mojo
Traffic Mojo is pretty lame once you go through it. Basically you find pictures that get a lot of likes by searching in a keyword tool.
But if a viral photo doesn't have the keyword that you're searching for in the description, it won't show up. So a viral meme or photo without a description will go completely unnoticed. The meme creator isn't worth it either and you're better off going to Canva to make pictures.
The only part I really liked is you could track your photos clicks and you could set up a schedule for your memes to be shared.
I wouldn't recommend this software, however. There's just enough to make it useful.
If you are looking for a game changer and want to earn thousands a month, you should check out Wealthy Affiliate. It is by far the best affiliate marketing training on earth and comes with a community of 1 million internet marketers, keyword research tool, website builder, top of the line support, hosting and more.
Here's how it stacks up against Traffic Mojo:
As you can see Wealthy Affiliate is way better!