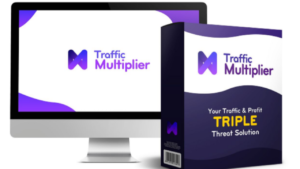 Product: Traffic Multiplier
Price: $27 and upsell
Rating: 40/100
Overview: The Traffic Multiplier is not a scam but is definitely NOT a course that I would recommend. The training in the program is way to basic and there really isn't anything special about it.
For instance, the course is called Traffic Multiplier and never really goes into any detail on how to drive traffic. It's mostly how to set up your website to maximize traffic once you've already gotten it – not actually how to get it.
There's just not enough here to help anyone make any money and I don't think anyone will make money with this course alone.
If you want to see the best affiliate training (where I learned how to make a full time income online) check out my review of Wealthy Affiliate. You get top of the line training, a website builder, a keyword tool, a community of 1 million affiliate marketers, support and more.
To read my review, click below:

---
What's In The Course
The most important aspect to making money online is having the right kind of traffic. Once you have people that want to read your content coming to your website in large numbers, there's a million different ways you can use that to your benefit.
You can get people to sign up to an email list, you can make affiliate offers, you can sell your own products to them, you can build a social media presence, and so on.
When you get a course called Traffic Multiplier, what do you expect to learn? You expect to learn new methods of getting traffic to your website, correct?
What bothers me most about this course is there's not really any information on getting traffic and there's basically no information on how to generate free traffic (the best kind).
So if you're looking to buy this course to learn about cutting edge traffic ideas and training, you're not going to get it. You're going to get pretty standard training on how to set up your website – email opt in, setting up desktop notifications, how to set up Facebook Pixel, sending emails, etc. In all there's 11 short videos and some bonus training.
You can find this information for free online and there's nothing really new here.
Let's go over in detail what's in this course now.
Video 1: Overview
The first video is 13 minutes long and goes over the difference between how usual websites set everything up and how Traffic Multiplier recommends you set up everything.
In their example, a typical website gets traffic, has an opt-in offer, and then you make an offer or send an email. There's honestly nothing wrong with this method and I've made thousands a month from single websites doing less.
But the creator of this course has a method that's a little more involved and it's likes this: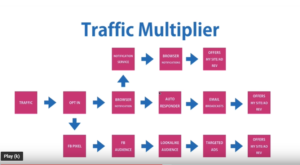 As you can see they recommend having opt-ins, driving traffic from Facebook. setting up desktop notifications and other things like that.
It's honestly not much different than what their criticizing and unless you can actually get traffic, this set up really won't do anything. Most of the traffic generating sources they recommend cost money like Facebook ads or solo ads too.
Video 2: Set Up Your Site
If you're a beginner this section may be worthwhile for you but it's only training on setting up a WordPress website. There's literally hundreds of videos on Youtube that'll show you how to do it for free and give you more information on the topic.
For instance look at this video:
This video is 1 and half hours long and is very thorough. How long is the video in this training? 8 minutes long. So as you can see it's pretty basic and won't give you any information that you couldn't find for free.
Video 3: How To Create Your Page
This is a video that details how to create your opt – in page. I actually like this video and it's pretty lengthy at over 20 minutes.
Your opt-in page is extremely important and unless you have a nice looking one (that clearly shows your offer), you'll have a hard time getting people sign up.
Having an email list is very important and some people make millions a year promoting only to their email list. So this is definitely a section you'll want to pay attention to.
Video 4: How To Create Additional Pages
This section is about filling out the rest of your website with additional pages. This isn't that important of a video and if you learned how to do it in the last section, you won't really need this video.
Also, you can find the information about what pages you need and how to set them up for free on Youtube.
Video 5: How To Set Up Browser Notifications 
Again, there's nothing here that you couldn't find online for free. Just type in how to set up browser notifications into Youtube or Google and you'll find resources to help.
Browser notifications can help to a degree and anything you can do to get your content in front of people is a good thing.
However, I don't think browser notifications is the thing that's going to put you over the hump.
Video 6: How To Set Up The Email Capture
There's a running theme to this course – you can find most of the information free on Youtube.
Just Google how to set up an email capture and you'll find videos as good or better than this one for free.
Video 7: How To Set Up Facebook Pixel
The hardest part about Facebook Ads is finding the right audience and creating an effective ad to get the attention of potential customers. There's not much information or training on how to do this in Traffic Multiplier.
Installing and setting up a Facebook Pixel isn't that hard and you can probably guess what I'm going to say next – you can find out how to do it for free online.
Video 8: How To Send An Email
In this video you're taught how to use Aweber and how to send emails. This is important to know but the video is only around 12 minutes long and doesn't tell you anything you couldn't find free in other places.
Now you're getting an idea why I only give this course a 40/100.
Video 9: How To Send Further Notifications
This is only a 3 minute video so don't really expect anything groundbreaking. This is just a quick overview on how to send desktop notifications. Again, like I've said a million times – you can find how to do this for free.
Video 10: The Strategy
When I saw this section was called "The Strategy" I got a little excited because I though this was going to be the video that pulls it all together.
Guess I should have known better than to have gotten excited. You know how long this video is? 4 minutes..
Not nearly enough to get any information that's going to change your life. The creator basically just reiterates the video from the overview section. Pretty disappointing.
Video 11: Example In Full 
This is another short 4 minute video and basically goes over how the process works when someone visits your site and how you get them to sign up.
Again, getting the traffic is the most important aspect to internet marketing and you get basically zero training on that.
Bonus Material
There's bonus material that's very basic as well. It's not really worth going over in detail, though. There's way to brief information on running Facebook Ads and "other traffic source ideas." Their traffic source idea is to basically buy solo ads (access to another person's built up email list).
I know some people have success doing this and others don't – it really depends on the quality of the email list you're getting access to. You're going to be spending money to run these ads, however.
This can cost thousands of dollars and if you don't do it right you'll lose that money. The training here isn't enough to guarantee you'll make money and I predict you would lose money.
There's WAY Better Training Out There
Traffic Multiplier is such a misnomer for this course – there's basically no information on getting traffic! There is absolutely no way you could double or even see any increase in traffic with this course.
Everything is way too basic and there's nothing innovative or new here. It just gives tips on setting up an email repsonder and desktop notifications. You don't need to buy a course to figure this stuff out. Just Google it or look it up on Youtube.
There is good news, however. There's training available that will teach you how to make money and how to take advantage of FREE traffic sources. Wealthy Affiliate is the absolute best and it's where I learned to make over 5k per month.
See how it stacks up against Traffic Multiplier:
As you can see Wealthy Affiliate is BY FAR the better program to join!