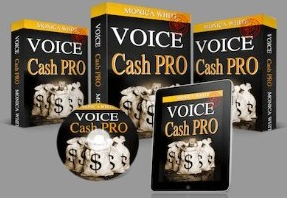 Product: Voice Cash Pro
Price: $48 and upsells
Rating: 20/100
Overview: Voice Cash Pro is a scam and how much money they claim you can make is ridiculous. I review these types of courses for a living and come across these types of scams all the time – they have fake owners, fake testimonials and the training is always poor.
If you're looking for top of the line training and want all the tools to actually make money online, you should consider Wealthy affiliate. This is where I learned to make a full time living as an affiliate marketer and it's completely FREE to try.
To read my full Wealthy Affiliate review, click below:

---
What Does Voice Cash Pro Review
Voice Cash Pro is a little unique in what it's selling. Most of the courses I review try to teach you how to make money through affiliate marketing, Ecommerce or MLM.
But Voice Cash Pro teaches you how to make money doing voice over work. Now do I think you can make a full time living, from your house doing voice over work if you hustle and know where to find jobs? Yes I do and apparently there's people making over 6 figures doing so.
But that's true for all work and industries. The best of the best nearly always get paid 6 figures and in many instances can get upwards of 7 figures and beyond. I'm sure people who do the voice over work for movie trailers in Hollywood or commercials could make over a million.
Michael Buffer, the boxing announcer who coined the phrase "Let's get ready to rumble" has a net worth of over 100 million.
Michael Buffer is a 1 in a million voice, though. In reality, I have to imagine this is quite a difficult industry to break into.
I bet you can make some side cash with it but I wouldn't bank on making a thousand a day or several hundred a day like this course says is possible.
And if you do think that's possible I would get better training and try to reach out to people that are already successful. See what tips you can get and I'm sure a good majority will respond back with some pointers.
Voice Cash Pro Uses Fake Testimonials 
Do you know what the definition of irony is? It's when something opposite of what you were expecting to happen, happens.
So if a course is saying they have people making over 6 figures a year, shouldn't these students be giving the testimonials.
Do you know what the creator of this course did? They hired people from Fiverr to FAKE testimonials – literally hired voice over actors who didn't learn from Voice Cash Pro to lie about how much they're making because of Voice Cash Pro. That's irony.
Anyway, here's the proof: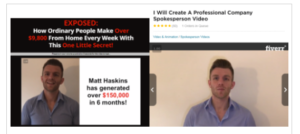 $150,000 in 6 months? Come on..
This actor actually does a fake testimonial for another training course too which you can see here. In that testimonial he is supposedly making over a million a year.
Here's another actor from Fiverr saying they're making a killing from Voice Cash Pro: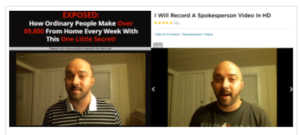 Don't you think a legit course would have their own students instead of actors? This is a common tactic and I see it all the time. All these courses end up being scams too.
So my advice is if you're dead set on making money as a voice actor, try finding a better course.
If you're just interesting in earning money online, check out my favorite training below:
>>>>>Make 6 Figures Online<<<<<
---
Inside the Training
Once you get past the upsells (which cost in the hundreds and are common for these types of courses) you finally get to the training and it looks like this: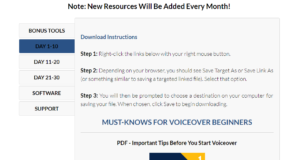 The course pretends like you need 30 days to complete it but you could honestly finish it in 2 to 3 days if you have the time.
There's no video training (almost all courses have videos) and all the training is provided in different PDF files. In all you get 6 PDF's, the Audacity Software link and some Bonus Tools.
Let's take a deep dive into each section, now.
Day 1 to 10
Again, the idea that you would need 10 days to go through the two PDF's in this section of the course is laughable. Maybe they're just trying to get you past the 30 day money back guarantee but you should easily be able to get through this in a day/hour.
The first PDF is titled "Important Tips Before You Start Voice Over Work." This guide is 3 and half pages long and is all about setting your Terms and Conditions. This ensures you won't get screwed over by people trying to take advantage of your services.
The second PDF is titled "Essential Voice Over Tools To Get Started." This actually seems like a pretty valuable section and goes over all the different tools you'll need to get started in voice over work.
In this PDF every option is covered and there's recommendations that are both free and pretty expensive ($500+).
In all there's 13 and half pages in this PDF. So if you combine the first PDF and this one you get 17 pages. Do you really need 10 days to read 17 pages of information? I really hope not.
Day 11 to 20
After you set up your Terms and Conditions and bought the equipment you move on to actually finding jobs. The first PDF in this section is 10 and half pages long and focuses on finding jobs on social media.
You get tips on setting up a Linkedin profile and searching various social media and search engine platforms like Twitter, Youtube and Google for actual jobs.
The next PDF is "The Best Websites For Voice Over Gigs." This is a longer section and is just over 20 pages. Here you'll get insights into websites like Fiverr and Upwork and other websites that are marketplaces for freelancers and voice actors.
Not a bad PDF and if you're interested in voice over work, this section will probably come in very handy for you.
Day 21 to 30
The single PDF in this section is a whopping 2 pages long and is on the art of negotiating the best price for your work. In my experience 2 pages would not be enough to cover a topic like this.
Luckily there's also an audio file for you to download that's 9 minutes long that gives you more tips on maximizing your profits.
You also get a link to a podcast in the voice over industry which I'm pretty sure you could listen to without buying the course.
Software
In this section you get a link to download the Audacity software to help improve your voice over work. You don't need to buy this course, however, to get Audacity for free – you can just go over to the Audacity website and just get the software for free there.
You get a a 5 minute video explaining how to use Audacity in this section but you can easily find a better video on Youtube explaining this software and how to use it.
Here's one that's 3 times as long:
This video is way better than the one in Voice Cash Pro.
Bonus Material:
This section is basically worthless. You get one PDF that's 3 pages long that provides basically zero value and you get a case study (a few pages long) of a guy who's a millionaire from voice over work. Note he's not a millionaire from following this course but a millionaire in the field of voice over work that has no affiliation with Voice Cash Pro.
Then you get a link to 3 different Youtube channels that you can access completely free. Here they are if you're wondering:
https://www.youtube.com/user/VoiceoverMaterclass/videos
https://www.youtube.com/user/everythingvoiceover/videos
https://www.youtube.com/channel/UCn0RLea5Hghg7mXYcbnL2WQ/videos
And that's it. That's the entire course summarized for you.
What I Like About The Course
It would seem voice over work is a legitimate career path and there are some people making a killing in the industry. The field is crowded, though, and your success will depend on your ability to sell yourself.
Also, the course isn't that expensive (as long as you don't fall for the upsells) and there is a money back guarantee because it's sold through Clickbank.
So if you want to check it out for yourself, you'll always have the option of getting your money back.
What I Don't About The Course
Basically everything. The training is pretty low quality and it's laughable to think it would take 30 days to get through this course. At most it will take you 3 days and I'm sure you could get through it in a few hours if you wanted.
I also really, really, really don't like the fake testimonials. That stuff drives me crazy and I see it over and over and over. I even see the same paid actors over and over!
I'm not a fan of this tactic and find it to be extremely misleading. I also don't like that it's targeted at naive or people unfamiliar with online scams.
I Would Stay Away From Voice Cash Pro
While making money as a voice over worker can work, I don't think this training is going to put you over the edge. If you are dead set on being a voice over actor, you should look into more legitimate training and courses – not one that uses fake testimonials and outrageous profit claims.
If you're just looking for a way to make money online, make sure to check out Wealthy Affiliate. This is where I learned to become financially independent and it's by far the best affiliate marketing training on the internet. Besides the training you get access to a community of over 1 million internet markers who you can ask for help, support, website builder, keyword research tool, hosting and more.
Here's how it stacks up against Voice Cash Pro:
As you can see Wealthy Affiliate is a hundred times better and you can try it for free – it doesn't get any better than that!