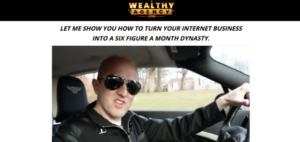 Product: Wealthy Agency
Price: $29
Rating: 50/100
Overview: Jamie Lewis is a legit internet marketer and I've reviewed other courses he's made. Wealth Agency is a decent course but it's not for beginners. Basically Jamie is teaching you how to sell services and be a freelancer and get the best possible prices possible for your services (basically opposite of Fiverr where you make minimal).
In the course Lewis makes it seem like anybody can start making thousands a day, right away but that's not true. You need skills and that takes time to develop.
If you want training that covers how to develop skills to make money you might want to consider Wealthy Affiliate. Wealthy Affiliate has the absolute best training available and a community of over a million people. It's perfect for beginners and seasoned marketers. To read my review, click below:

---
Who Is Jamie Lewis?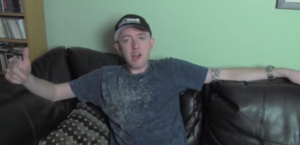 Jamie Lewis is an internet marketer that's been around for a long time. He started out as a rapper/music producer and turned that into a thriving internet marketing career.
Jamie is a multi millionaire too and obviously it's always worth listening to him.
I actually think he's a pretty legit marketer but I usually find he doesn't give enough detail in his courses. He seems like more of an idea guy and kind of leaves you to figure out the rest.
For instance, in his Profit Injector he teaches you how to find videos and channels on Youtube to market your affiliate links. You don't make any videos and you simply just build relationships with people to use their traffic to make money.
This is a good idea but you need to be pretty experienced to do this. You'll need to know how to make a sales funnel and know how to pick the right niche/product.
Jaime never really explains these things too much and you're left figuring out a lot for yourself.
What Does Wealthy Agency Teach? 
Wealthy Agent has a pretty interesting concept – it teaches you how to be a freelancer and supposedly make thousands per job/task.
A lot of people do freelance work and end up joining programs like Fiverr or Upwork and make $5 to $10 a gig. When you're making $5, $15, 0r $20 per task and competing against 100 other people for jobs, you're not going to make a lot of money.
To Jaime's credit he acknowledges this when other people wouldn't. Instead he shows you some tips and tricks so you can find jobs that get you hundreds or even thousands.
The only problem is Jamie barely covers how to develop skills that'll get you $1000 per day. In fact, he kind of just mentions things like launch products, headhunt, and stuff like that.
So if you're looking for a course to teach you ways to make thousands a day while also teaching you skills that warrant that kind of cash, you're not going to get that here.
But if you're a website designer, experienced in launching successful products, or have any other experience like that, this course can provide some benefit for you.
I'll go over each video more in depth now.
Step 1
This video Jamie lays out the overall business model and introduces you to what kind of work you'll be doing. He explains that you're going to be finding businesses to do work for.
He goes over how much you can make but I think he's exaggerating a little about how profitable this kind of work. While people can set up agencies and make a boat load of money, it takes time and a portfolio to do that.
If you're new to internet marketing you're going to have NO idea what he's talking about. By the end of the course you're likely going to be confused as well.
Only people with knowledge of how internet marketing and social media work will really know what's going on.
Step 2: 
In step 2 you get a little more detail on how this money making system works. Essentially you find people that need advertising or another service and have a good amount of money to spend.
What Jamie recommends is posting your skill in a place like Craigslist, Facebook, Linkedin or any place like that. From there you get a job and then try and outsource the work for cheap.
So if you're promising to make someone a website for $1000 you would go to Fiverr and find someone who can do it for $100. Then find someone who will design a logo and a Facebook account and stuff like that.
According to Jamie you won't want to spend over 30% of your budget.
Everything just seems too easy, though. There's so much more involved and more stress involved than Jamie is letting on.
Step 3: 
In this section Jamie goes over the difference between a scam and a legitimate offer on Craigslist. He describes a time when he was fooled by a scam and how to avoid them.
This isn't the most important section and not much new is learned here.
Step 4 (Advertising):
This is a very important section and goes over how you're going to find people that want your services. I've been doing internet marketing for a while and I haven't really thought about posting ads on Craigslist to drive traffic. It does seem like a pretty good idea because I have used Craigslist in the past to try and find a job and car.
So I know people go to Craigslist looking to spend money or get involved in long term projects.
In this section Jamie gives you advice on how to post on Craigslist to get the most people to email you. Also, he gives you advice on where to post and which cities to target.
A lot of what he tells you isn't exactly groundbreaking, though. If I told you to post your services on Craigslist you probably could do it without a whole training about it – it's pretty self explanatory. There's no new tips or anything really special in that regard in this section.
Step 5: Building:
This section is about putting together a Paypal account that will be attractive to people and make them want to use your services. He gives you tips to seem legit and how to set your prices.
For example, he tells you to reward people with a discount if they're buying more of your services. This is a good tip and a great way to earn more money.
Step 6: Facebook:
In this section Jamie goes over building a popular Facebook page. I've personally never really gotten into Facebook and only have a little experience in running ads.
This is probably a big step if you're running an agency, however. The more you get your name and service out there the better it will be for you. You can also post stuff for free and try to drum up business that way.
Extra Stuff
Besides these 6 training modules you get a few extra goodies with this course. You get a section called business models of the top things you can do to make money and which niches to get involved in.
Jamie doesn't go too in depth in this section and you're going to have to do extra research on your own about each one.
There's a section called swipes that help you when it comes time to talk to customers. These are pretty basic and things you can probably figure out on your own.
What I Like About Wealthy Agency
Wealthy Agency gives some good tips on going into business yourself and I like the training on Craigslist. I also like the idea of creating agencies and other businesses like that.
He doesn't tell you to just join Fiverr and make $5 a task. Instead he encourages you to try and make hundreds or thousands a task.
What I Don't Like About Wealthy Agency
I really feel like the advice and training in this course is too general. Jamie never really goes into great detail and if you want to make this method work, you'll have to do a lot of research on your own to fill in the blanks.
Final Verdict: There's Better Training Out There
Wealthy Agency certainly isn't a scam like a lot of other programs that I review. But I still think there's better programs out there. Wealthy Agency just doesn't have enough training in it for me to recommend it to you and there's not really a community where you can ask questions.
My favorite training is Wealthy Affiliate. This is where I learned how to make money online and now I make a full time income only working 15 hours a week.
Here's how it stacks up against Wealthy Agency:
As you can see Wealthy Affiliate is way better and has all the tools you need to succeed!